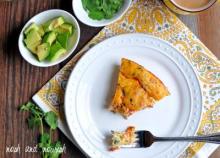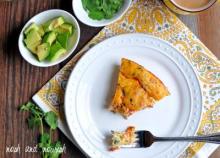 Description
BLT Crustless Quiche -- #paleo #dairyfree // via Nosh and Nourish
Ingredients
4 cups loosely packed spring greens
1 tablespoon finely diced red onion
8 slices of turkey bacon (or sub regular bacon)
1 cup diced fire roasted tomatoes
1 tablespoon Diced Green Chiles (optional)
1⁄2 teaspoon black pepper
1⁄8 teaspoon Garlic Powder
Instructions
Soak cashews in 1/2 cup water at room temperature for 3 - 4 hours. 
Then drain the cashews, add in 1/2 cup fresh water, and blend with an immersion stick blender or food processor until smooth. 
Preheat the oven to 350 degrees. 
Cook the turkey bacon, then crumble and set aside.
Over medium heat in a medium skillet, heat up the olive oil. Then add in the spring greens, red onion, and lime juice and saute for approximately 5 minutes, until greens are wilted and onions are softened.
Remove the greens from heat, and use a fork and knife to dice them into smaller pieces. 
Combine all the ingredients in a medium mixing bowl: cashew cream, bacon crumbles, diced wilted greens, eggs, tomatoes, green chiles, and spices. 
Use non-stick spray on a 9" pie pan, then pour in the quiche batter. 
Bake for 45 minutes, or until eggs are set and not jiggly. 
Serve with cilantro, sliced avocado, and or greek yogurt (optional).
Yields 8 Servings