Description
Bird's Nest Cookies // @noshandnourish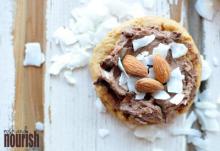 Ingredients
1 package
Pillsbury Simply Peanut Butter Cookie Dough (or sub homemade pb cookies)
6 ounces
Banana Chobani Greek Yogurt
2 tablespoons
Cocoa Powder (unsweetened)
2 tablespoons
Chocolate PB2 (powdered peanut butter)
2 tablespoons
Powdered Sugar
Instructions
Cook Peanut Butter Cookies per instructions -- I used the Pillsbury Simply variety, which cooked for 17 minutes at 350 degrees.
Let cookies cool.
While cookies are cooling, mix the greek yogurt, cocoa powder, PB2, powdered sugar, and most of the coconut flakes (leave a few to sprinkle on the top for the "nest").
Spread a spoonful of the frosting on top of each cookie.
Stack a few coconut flakes on top, followed by 3 almonds.
Voila, cute and health(ier) spring cookies!
Yields 12 Cookies