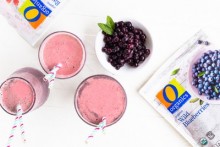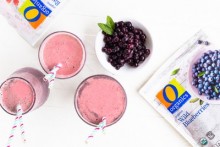 Ingredients
1 cup dairy-free milk of choice
1 tablespoon Peanut Butter (heaping)
1⁄2 cup O Organics frozen raspberries
1⁄2 cup O Organics frozen blueberries
Instructions
In a high speed blender, combine the milk, banana, almond butter and oats. Blend until smooth. Pour half of the smoothie into a pitcher or large class. Add the raspberries to the remaining half in the blender. Blend on high until combined. 
Pour this raspberry smoothie mixture into 4 small glasses (about half full). 
Then, pour the remaining smoothie from the beginning back into the blender and blend with the blueberries. Serve over the raspberry layer.
Enjoy!
Yields 4 Servings