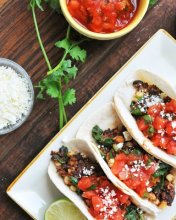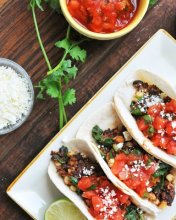 Description
Beans & Greens Tacos with Watermelon Salsa
Ingredients
15 ounces can of organic black beans (rinsed and drained)
1 cup Organic Sweet Kernel Corn (frozen or canned)
1 tablespoon Taco Seasoning (I like the Simply Organic brand)
1⁄2 cup Walnuts (coarsely chopped)
Instructions
Preheat oven to 350 degrees.
Lay out the Udi's tortillas flat in a single layer on a baking sheet. 
Squeeze the juice from 1/2 a lime over the tortillas, then sprinkle with sea salt.
Bake for 12 minutes, or until lightly browned. Then remove from heat and set aside.
In a large skillet over medium-high heat, combine the taco filling ingredients: black beans, corn, spinach, quinoa, taco seasoning, walnuts, salsa, and cumin. Saute for 10 minutes or until heated through and spinach is softened/wilty. 
Meanwhile, in a small bowl, combine the watermelon salsa ingredients: diced watermelon, salsa, sea salt, paprika, cumin, and cilantro. Stir until thoroughly combined.
Assemble your tacos! Grab a tortilla and then get a large spoonful of the heated taco filling, a large dollop of watermelon salsa, and a sprinkle of feta. Optional -- add avocado slices.
Yields 6 Tacos