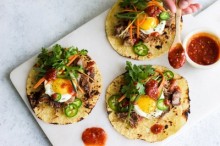 Ingredients
2 pounds
brisket (for more traditional banh mi, substitute pork tenderloin)
1
1" piece of fresh ginger (grated)
2 tablespoons
Brown Sugar
1 cup
thinly sliced carrots
1 cup
thinly sliced cucumber
1⁄4 cup
White Vinegar (or sub rice vinegar)
1 teaspoon
raw cane sugar
corn tortillas (6-8. depending on how full you stuff them)
raw, thinly sliced jalapeno
thinly sliced green onions
Notes
Note: For kids, simply omit the jalapeños and chili sauce to make it less spicy!
Instructions
In bowl combine soy sauce, water, garlic cloves, ginger, brown sugar, and fish sauce and stir to combine.
Put brisket or pork tenderloin and soy sauce mixture in a slow cooker and cook on high for 6 hours or low for 10 hours (would be a good option for overnight). You could also do this in an Instant Pot (cooking times and directions would vary).
Once the meat is done, combine vinegar, granulated sugar, and salt in a bowl and then add carrots and cucumbers and toss to coat.
Let the veggies sit in the vinegar mixture for 15 minutes before serving.
Fry eggs over easy, 1 per taco.
Shred meat.
Char tortillas by placing them over an open gas flame on the stove or placing in a skillet and toasting on each side until just charred, careful not to burn them.
To assemble tacos, layer meat, pickled veggies, jalapeño, cilantro, green onions and chili sauce and then top off with a fried egg.
Serve immediately.
Yields 6 Servings