Description
Hearty Breakfast Toast: Avo Lime // via Nosh and Nourish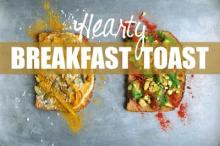 Ingredients
1 slice
hearty bread (I like Eureka's Seeds the Day bread)
1 tablespoon
fresh cilantro
1 tablespoon
coarsely chopped pistachios
Instructions
Toast your bread to your desired crispiness.
Slice the avocado, with outer skin and pit removed. Then, lay the slices in a single layer over the bread.
Use a fork to gently mash it down onto toast (optional).
Add the next ingredients in the following order: sprinkle lime juice evenly over avocado, then lay out cilantro leaves in a single layer, the sprinkle coarsely chopped pistachios evenly, then finish with paprika.
Devour!
Yields 1 Servings