Asparagus, Pea, and Carrot Top Pesto Pasta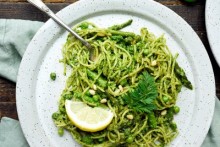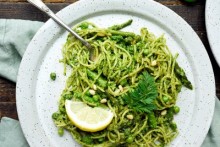 Description
Asparagus, Pea, and Carrot Top Pesto Pasta
Ingredients
16 ounces pasta of choice
1 bunch Asparagus (approximately 15 spears -- washed and trimmed)
1⁄2 cup carrot top pesto* (below)
1⁄4 cup grated Parmesan (optional)
salt and pepper (to taste)
Notes
*Carrot Top Pesto recipe --- below.
Instructions
Follow Kelly's recipe for Carrot Top Pesto (below). Store in an airtight jar in fridge if not using all at once.
Cook pasta according to directions in boiling salted water.
Wash and trim asparagus, Slice into 1-inch pieces.
Heat a large pan to medium. Drizzle with a tsp or so of olive oil and add asparagus. Saute until softened (about 5 minutes). Season with salt and pepper. Add green peas and continue to saute until tender.
Add cooked pasta to pan and toss with tongs. Remove from heat and pour pesto into pan. Continue to toss with tongs until evenly coated.
Serve with grated parmesan (optional) and a squeeze of lemon. Enjoy!
Yields 4 Servings