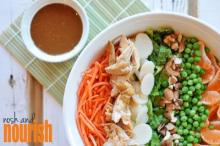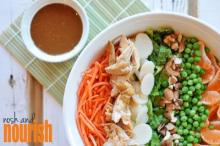 Description
Asian Layered Salad // @noshandnourish
Ingredients
2 bunches Romaine Lettuce
3⁄4 cups Shredded Carrots
3⁄4 pounds Chicken Breast
1 can Sliced Water Chestnuts
1⁄2 cup Almonds (chopped)
3⁄4 cups Peas (or sub Edamame beans )
2 Mandarin Oranges (or sub Clementines)
3⁄4 cups Asian Sesame Dressing (I used Kraft)
Instructions
Cut the lettuce into thin strips, and lay it in a medium salad bowl.
Cook the chicken on the stovetop with a bit of the sesame dressing, or some sesame oil.
Layer all the ingredients into strips on top of the lettuce.
Serve into individual bowls so that each person gets some of each topping.
Drizzle on the Asian Sesame dressing.
Yields 6 Servings