Apricot Tomato Bruschetta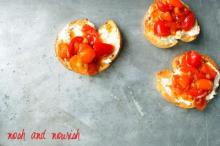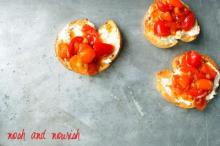 Description
Apricot Tomato Bruschetta // via Nosh and Nourish
Ingredients
2 cups diced organic tomatoes (I used heirloom cherry tomatoes)
2 tablespoons Cascadian Farm Apricot Fruit Spread
1 tablespoon Balsamic Vinegar
1⁄2 tablespoon Minced Garlic
1⁄2 tablespoon Soy Sauce (or sub liquid aminos)
1⁄3 cup Whipped Cream Cheese
1 loaf french bread (sliced)
2 teaspoons Local Honey (optional)
Instructions
In a medium mixing bowl, combine all ingredients except cream cheese and bread. 
Preheat the oven to 375 degrees.
Cut the loaf of bread into thin slices. Arrange in a single layer on a baking sheet, and toast in the oven for approximately 8 minutes, or until slightly browned.
Spread a thin layer of cream cheese (optional) over each bread slice, then top with a generous scoop of the tomato bruschetta.
(optional) Drizzle a bit of honey over the top of each.
Enjoy!
Yields 6 Servings