Apple Harvest Mason Jar Salad
Description
Apple Harvest Mason Jar Salad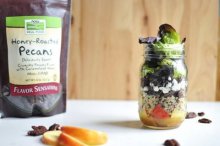 Ingredients
1 teaspoon
Spicy Brown Mustard
1 teaspoon
Apple Cider Vinegar
1 tablespoon
avocado oil (or sub olive oil)
1⁄2
an organic apple (diced or sliced)
1⁄4 cup
Now Foods' Honey Roasted Pecans
2 tablespoons
crumbled goat cheese
2 tablespoons
dried cherries
2 cups
greens (I used baby red butter lettuce, but you could also use spinach)
Instructions
In a small bowl, whisk together dressing ingredients: brown mustard, apple cider vinegar, avocado oil, and honey. 
Pour the dressing into the bottom of the mason jar. 
Then add/layer in this order: apple chunks, quinoa, pecans, goat cheese, cherries, and greens on top. 
Refrigerate until you're ready to eat. 
I usually pour the contents of the jar into a big bowl and stir, then devour!
Yields 1 Serving