Apple Cinnamon Super Grain Muffins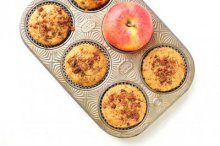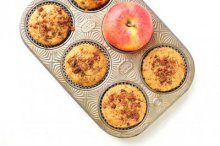 Description
Apple Cinnamon Super Grain Muffins --- the perfect way to start the day! // via Nosh and Nourish
Ingredients
2 packets of Quaker Super Grains oatmeal (apples & cinnamon flavor)
1 cup organic flour (I used Bob's Red Mill organic all-purpose flour)
2 teaspoons Baking Powder
1⁄2 teaspoon Iodized Sea Salt
1⁄2 cup avocado oil (or sub coconut oil or olive oil)
2 Eggs (I used O Organics' eggs)
1⁄2 cup Coconut Sugar (or sub regular sugar)
1⁄2 cup unsweetened cashewmilk (or sub your favorite milk)
1⁄4 cup honey roasted pecans (coarsely chopped)
Instructions
Preheat oven to 350 degrees.
In a large mixing bowl, combine dry ingredients: oatmeal, cinnamon, flour, baking powder, and sea salt. 
Grate a medium zucchini, then squeeze out the excess juices --- do this by putting the grated zucchini in a cotton tea towel and squeezing until no more juice comes out. Then put the zucchini into the dry ingredients.
In a small bowl, combine the wet ingredients: apple sauce, avocado oil, eggs, coconut sugar, and cashewmilk. Stir until thoroughly combined. 
Then, stir the wet ingredients into the dry ingredients. Stir just until mixed. 
Use cupcake liners and then spray the muffin tin and liners with non-stick spray. Fill each cup 3/4 of the way up to the top. 
Sprinkle the tops with the coarsely chopped honey roasted pecans. Gently press them down into the batter slightly.
Bake for 25 minutes or until lightly browned. 
Enjoy!
Yields 12 Muffins