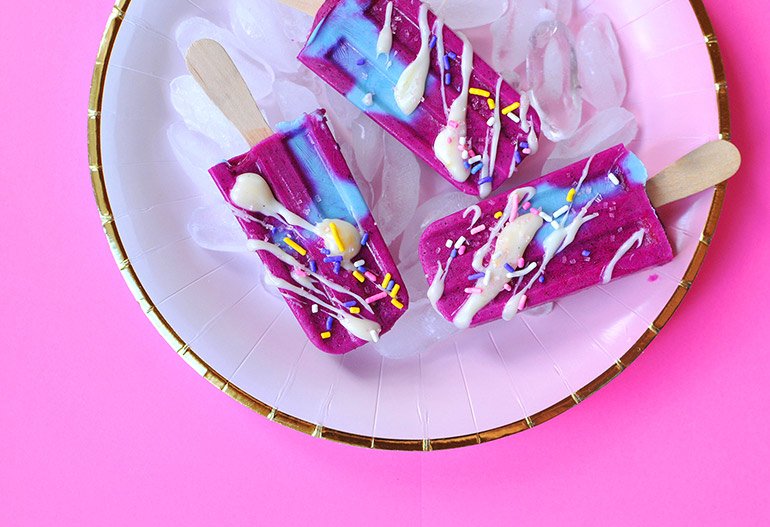 These Unicorn Yogurt Popsicles are sooooooo much healthier than their frappaccino cousin, but have just as much fun, flavor, spunk, and delightful color. They're completely dairy-free/vegan thanks to the Silk Almond Yogurt and can you even believe these vibrant colors are all-natural?! 
As you know, the Unicorn Frappaccinos from Starbucks have taken the world by storm. 
Though they're not without controversy. 
Beautiful, fun, and sugar-laden. 
I personally haven't tasted one, nor do I want to; I haven't had a frappaccino in like 16 years.  But I do know that these pops mimic the colors and flavors quite well, even down to the mango drizzle on top.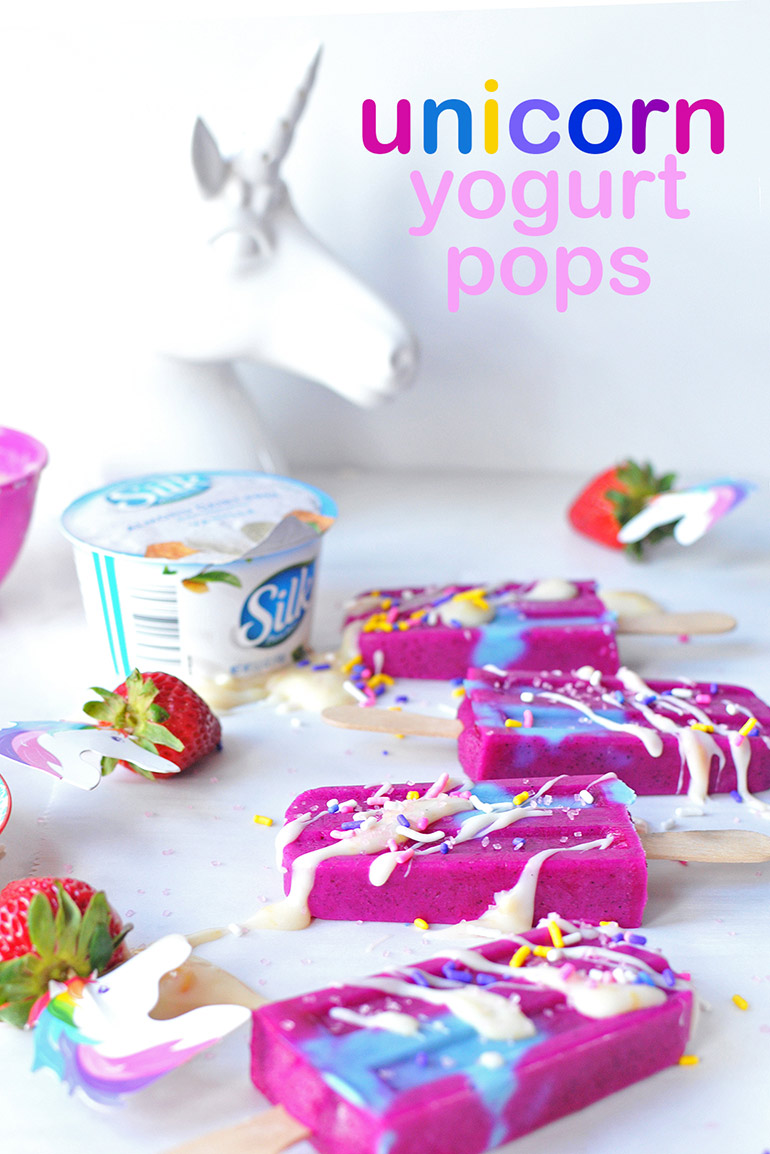 The popsicles' bright pink base is primarily made with dragonfruit and strawberries. Perhaps my favorite springtime combination, as evidenced by these smoothie bowls and this cake.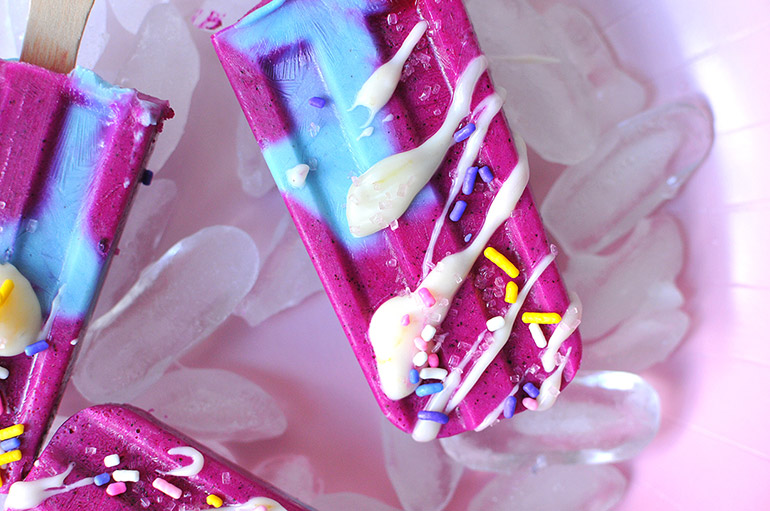 The bright blue swirled throughout is made from Silk's new vanilla almond dairy-free yogurt stirred with 1/8 teaspoon of McCormick's new all-natural blue dye.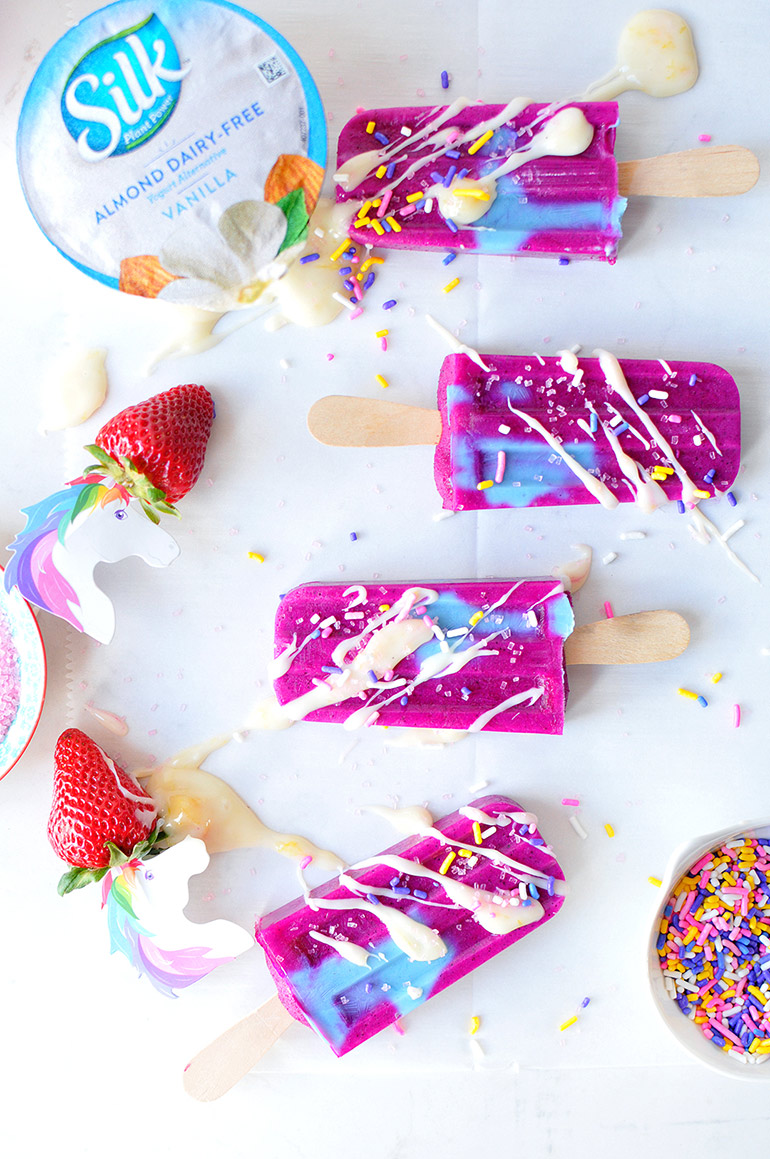 Then they're drizzled with a mixture of melted dairy-free white chocolate and mango puree. And of course, for total cuteness... they're topped with sprinkles and coarse pink sugar.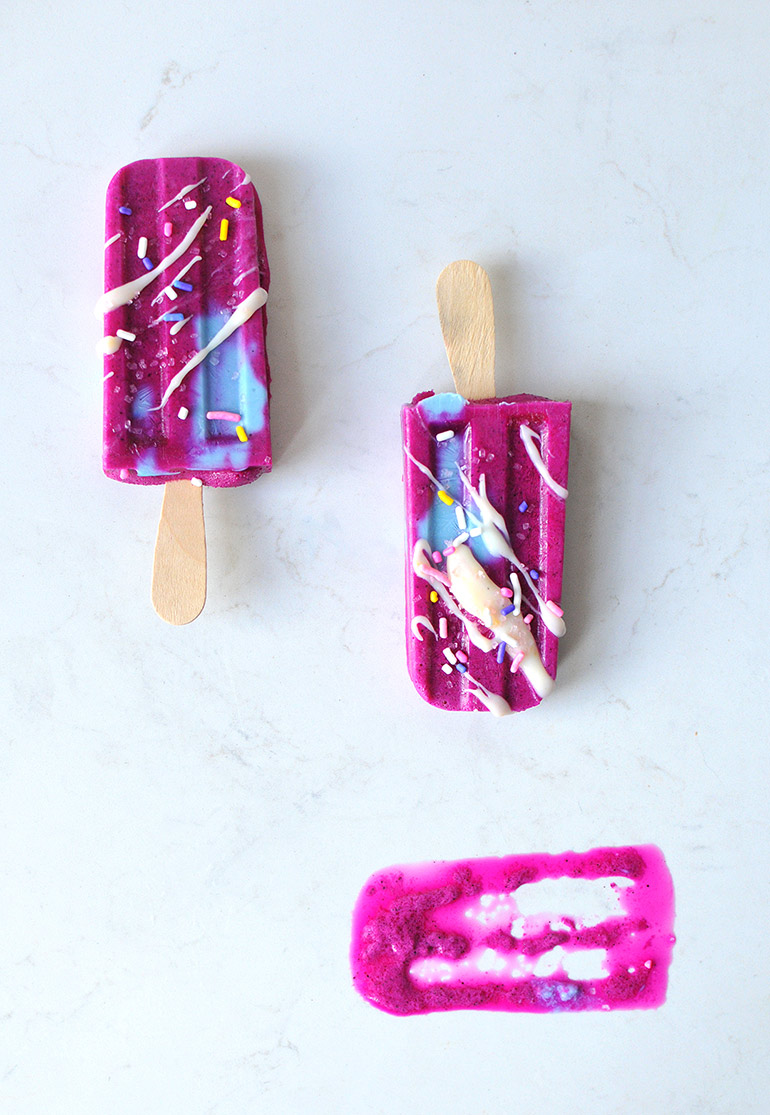 These Unicorn Yogurt Pops would be great for a birthday party or just a regular ol' weekend this summer.  I even let Babycakes have one for breakfast!!! Why not, they're just yogurt and fruit.
---------------------------------------------------------------------------------------------------------------------------------------
This is a sponsored conversation written by me on behalf of Silk. The opinions, recipe, beautiful food photography and text are all mine. Thank you for supporting brands that support Nosh and Nourish!!! I choose them based on what I already cook/create with and feel 100% confident in recommending to you.
Unicorn Yogurt Pops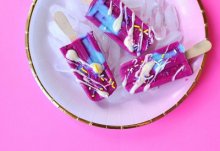 Description
Unicorn Yogurt Pops | unicorn frappaccino | unicorn food | unicorn recipes | dragonfruit recipes
Ingredients
14 ounces Dragonfruit puree* (sold as 4, 3.5oz smoothie packs)
4 fresh strawberries (greens/tops removed)
3 Silk Vanilla Almond Dairy-free Yogurt Alternative (~5.3oz each, for a total of 15.9 oz --- divided)
1 cup Silk Vanilla Unsweetened Cashewmilk
1 tablespoon mango puree (optional)
1⁄8 teaspoon McCormick's Color From Nature Sky Blue Dye**
3⁄4 cups dairy-free white chocolate melting chips***
Notes
*I like buying the dragonfruit / pitaya smoothie packs from Whole Foods in the frozen fruit section. It looks like this.
** This is the all-natural dye I LOVE. 
*** Here's the link for dairy-free melting chips.
Instructions
Combine the dragonfruit puree (frozen), strawberries, two 5.3oz containers of the Silk vanilla almond yogurt, and the cashewmilk in a high speed blender. Blend until smooth. 
In a small bowl, combine the remaining 5.3oz container of Silk vanilla almond yogurt with the natural blue dye. Stir until combined. 
Pour the dragonfruit puree into the popsicle mold about half full. Then, put the mold into the freezer for 15 minutes. 
Remove the popsicle mold from the freezer and use a spoon to drizzle the blue yogurt down the sides of the popsicle mold, about a tablespoon per popsicle. Then, fill the rest of the popsicle mold with more of the dragonfruit puree. (*PLEASE NOTE, you may have some extra dragonfruit puree that you don't need.)
Freeze for another 15 minutes, then put in your wooden popsicle sticks. 
Freeze for another 2 hours at least. 
When ready to serve, remove the popsicles from the popsicle mold and lay them flat on parchment paper.
Melt your white chocolate chips and stir in the mango puree. Use a spoon to drizzle it over the popsicles. Then sprinkle on the sprinkles. 
Enjoy!
Yields 10 Popsicles