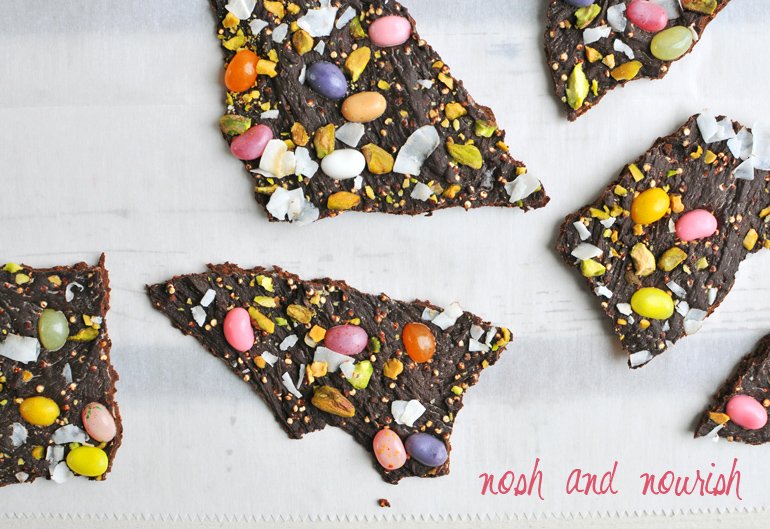 I am of the philosophy that life is all about balance. Some of you might be freaking out that I used jelly beans in a recipe... on a healthy food blog. I know. They're filled with corn syrup and dye to make those pretty colors. I would never suggest eating them daily. Or even monthly. But once a year for an Easter treat? In the grand scheme of life, you'll be ok.  6 jelly beans won't kill you. And they're so darn cute... and festive!
Cute and Easy Easter Bark:
Overall, I'd say this is a health(ier) Easter dessert than most. It starts with 62% Cacao Dark Chocolate. Once melted, it's infused with coconut milk and toasted quinoa. Then, comes the delicious toppings:
crushed pistachios
shredded (unsweetened) coconut
jelly beans
And if you're still super against the jelly beans, you can sub in an assortment of dried fruits like cranberries, blueberries, apricots, and pineapple. 
I love making chocolate bark because it's sooooooo easy and people love it. It's a great dessert to SHARE!
This isn't just a dessert full of empty calories. There's actually nourishing ingredients that also happen to taste amazing together. The shredded (unsweetened) coconut and pistachios both add healthy fats that satisfy you, the quinoa adds protein, and the higher percentage cacao is full of antioxidants.
This is a great recipe to make with kids!! They can help:
sort the jelly beans -- we separated out all the pastels from the darker more primary colors
measure the toppings into individual bowls
sprinkle the toppings on top of the melted chocolate
press the parchment paper over the bark to make sure all the toppings stick
break the bark into pieces once it's set/cooled
AND they can even help photograph the finished product! Is this not the cutest thing ever?! Babycakes decided she wants to be a photographer like her momma, when she grows up. So I've been letting her practice with her point and shoot camera every time I make food.
So what are you waiting for? Stock up on these couple of ingredients and make a batch of your own bark!
Question:
Are you on team jelly bean or team dried fruit?
Need more Easter inspiration?
Here's some other delicious Easter desserts from around the blogosphere that I'm loving:
Easter Bark with Jelly Beans
Description
Easter Bark with Jelly Beans --- super cute and sooooo easy to make... AND everyone loves it! // via Nosh and Nourish
Ingredients
1
bag of 62% Cacao Dark Chocolate chips (or sub dairy-free Enjoy Life chocolate chips)
4 tablespoons
canned lite coconut milk
1⁄4 cup
unsweetened coconut shreds
1⁄4 cup
Pistachios (coarsely chopped)
1⁄4 cup
jelly beans (or sub an assortment of dried fruits)
Instructions
Preheat the oven (or toaster oven) to 350 degrees. Lay out the quinoa in a single layer on a baking sheet. Toast for 5 minutes, or until lightly browned... being careful not to burn the seeds.
Next, melt the chocolate chips in the top of a double boiler or in a stainless steel mixing bowl set over a pot of simmering water (make sure the bottom of the bowl doesn't touch the water). This should take approximately 5 minutes, be sure to stir continually. Once they are melted completely, stir in the coconut milk and toasted quinoa. Mix thoroughly. 
Immediately, pour the mixture onto a baking sheet lined with parchment paper. Use a spoon to flatten and level the mixture. Sprinkle the coconut shreds, pistchios, and jelly beans evenly over the top. Lay another piece of parchment paper over the top of the bark, and press down gently to make sure the toppings "stick". Cool for 1 hour in the refrigerator, then break apart into pieces and enjoy! 
Store in an airtight container in the refrigerator.
Yields 8 Servings