Thanksgiving Side: {Slow Cooker Apple Sausage Stuffing}
Posted: November 14, 2012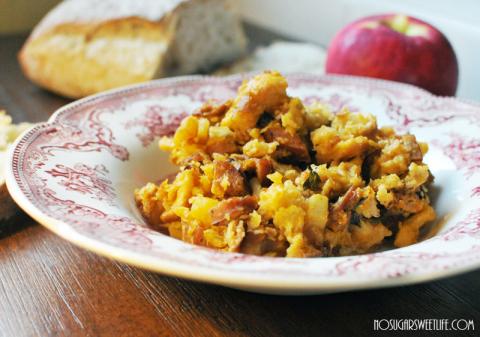 I am LOVING this healthier Thanksgiving series!! It was just what I needed to get back into the swing of things (cooking, photographing, and blogging) after the big move.  And it seems you are loving it too! I received this sweet blog reader comment yesterday: "This Thanksgiving series is as beautiful as it is healthful. Thank you for your creativity and passion for living the healthy way. Happy Thanksgiving!"  In case you missed anything, so far we have a healthier sweet potato casserole, a super flavorful cranberry pumpkin relish, decadent white chocolate pumpkin pie bites, and today's addition: apple sausage stuffing made in the slow cooker!
Reader-Requested:

This recipe creation was reader-requested. And I'm so glad she asked me about it, because I never would have thought to cook the stuffing in the slow cooker. But it's so perfect because it doesn't take up precious oven-space on that crazy cooking day we lovingly refer to as Thanksgiving!
Start with one and a half fresh Ciabatta loaves: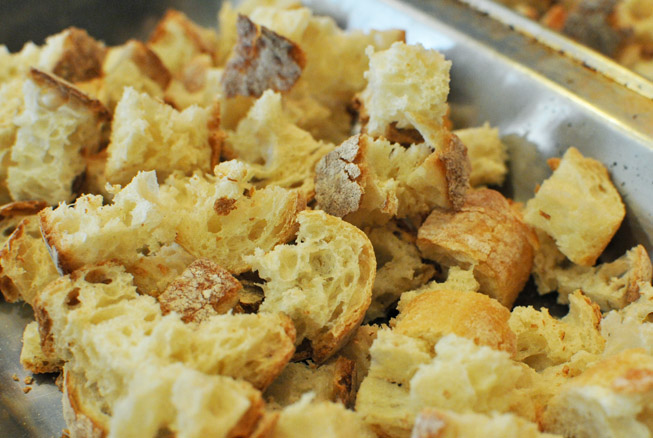 Cut up some fresh sage leaves:
Saute some onion and chicken apple sausage:
This is the chicken/apple/gouda sausage that I used. It is by far the best I've ever tasted: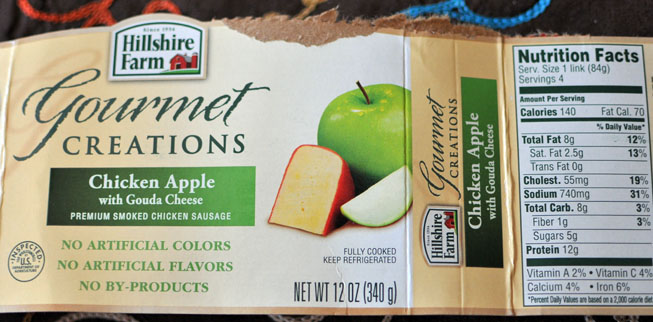 Cook in the slow cooker for 2 hours, throw in the oven for 10 minutes to crispify the top (optional)...and voila:
Perfect Slow Cooker Apple Sausage Stuffing
Moist, flavorful, and healthier than traditional stuffings that have tablespoons of butter in them.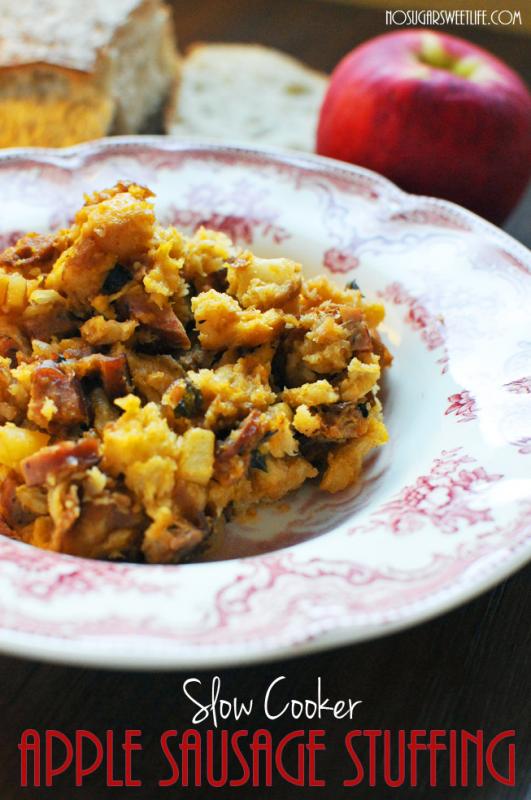 And you know, the best part of Thanksgiving is how all the dishes and flavors mix together on your plate.  So if you missed any of the other recipes from this healthier Thanksgiving Menu, please be sure to go back and check them out:
Slow Cooker Apple Sausage Stuffing
Description
Slow Cooker Apple Sausage Stuffing || No Sugar Sweet Life
Ingredients
1 1⁄2 loaf
Ciabatta Bread
2 tablespoons
Fresh Chopped Sage
3 tablespoons
Diced Yellow Onion (~1/8 onion)
Notes
**To make vegetarian, sub in veggie broth and veggie sausages.
Instructions
Preheat oven to 250 degrees.
Cut the 1.5 loaves of ciabatta bread into 3/4 inch cubes.
"Dry" / bake the cubes in the oven for 1 hour to remove all moisture.
Dice the pink lady apple.
Chop 2 Tbsp of fresh sage.
Dice 1/8 of an onion and the chicken sausages and brown them on the stovetop.
Then, combine all ingredients into the slow cooker.  Stir thoroughly so that the bread cubes are covered with the broth.
Cook on high for 2 hours.
Stir occasionally (every 30 min or so) to make sure it cooks evenly.
Transfer into a baking dish and bake for 10 minutes at 350 in the oven, if you like a crispy top (optional, but recommended!)
Yields 8 Servings

You might also like...