Thanksgiving Menu + {Healthier Sweet Potato Casserole}
Posted: November 11, 2012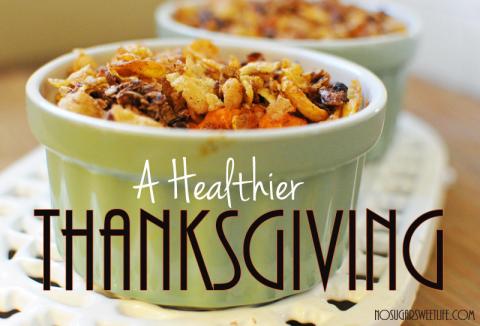 Thanksgiving is a wonderful time of year to gather with friends and family and celebrate all we truly have to be thankful for in our lives. When things seems busy, crazy and out of control (sounds like MY life!!), stopping for a minute to refocus on what's most important is so huge. And you know we all look forward to all that delicious, flavorful, and comforting food: plates overflowing with casseroles, potatoes, side dishes, desserts, and a bit of that sleep-inducing turkey.  Well, this year besides encouraging everyone to just eat smaller portions (which IS a good idea!!), I set out to healthify the typical Thanksgiving menu items.  Subbing one (or more) of these healthier versions can help you not to overdo it on Turkey-Day!!
The Healthified Menu:
Each day this week, I'll share the recipe for one of the items above so that by Friday, you'll have them all!  This will give you plenty of time to prepare/plan for your own Thanksgiving meals!
So, today we're starting with one of the worst things for you in its traditional form: sweet potato casserole.  Usually filled with sugar and butter, topped with sugar-y marshmallows, and sometimes sprinkled with candied nuts, this side dish can rack up as many as 609 calories per serving!!! And that's before you pile anything else on your plate!  Here is the version I did not make:
Nutrition Fact Comparison for 1 cup Serving:
Traditional Version Stats:
Calories: 609; Fat: 8.8; Carbs: 131.5 Sugar Grams: 62.2 Protein: 5.3; Fiber: 7.5; WW Points: 16
My Version Stats:
Calories: 176; Fat: 5.6; Carbs: 24.5;  Sugar Grams: 10.5; Protein: 6.75; Fiber: 2.5; WW Points: 5.
I am pretty excited about these nutritional stats!!! And the best part is that it tastes delicious too.  It is the perfect balance of sweetness, crunch, and creamy goodness without the guilt.
Introducing Healthier Sweet Potato Casserole:
It is made creamy with plain Chobani greek yogurt, sweetened with Creme Brulee coffee creamer, and topped with a crunchy buttery topping featuring Honey Bunches of Oats, Cinnamon variety.  The idea for the topping came to me in the grocery aisle, and I was literally smiling ear to ear and dancing with excitement. :)
It was so good, y'all!! Delicious. Healthier. Uncompromised. 
And here's a pic of my official taste-tester: Babycakes, begging for more sweet potatoes :)
Question:
Which Thanksgiving dish/item would you be willing to experiment with / try something new?
Healthier Sweet Potato Casserole
Description
Healthier Sweet Potato Casserole - only 176 calories / 5 WW points per 1 cup serving! || No Sugar Sweet Life
Ingredients
1 cup
Plain Chobani greek yogurt
4 tablespoons
Creme Brulee Creamer (could sub vanilla almond milk)
3 cups
Honey Bunches of Oats, Cinnamon variety
Instructions
Semi cook the sweet potatoes, either 5 minutes per (2) in the microwave, or 45 minutes in the oven baked at 350 degrees.
Preheat oven to 350.
Peel the sweet potatoes and put the mushy insides in a large mixing bowl.
Add Chobani, Creme Brulee creamer, and cinnamon.  Mix with a hand mixer until most big chunks have been removed.
Add in eggs and mix thoroughly.
Spoon into 8 individual ramekin dishes.
Prepare the topping: put the Honey Bunches of Oats Cinnamon into a different mixing bowl. Break up the larger pieces / crush it with a fork.
Mix in 2 Tbsp of melted butter and the remaining 1 tsp of cinnamon.
Equally divide the topping over each ramekin dish.
Bake for 30 minutes.
Enjoy this healthified version!!
Yields 8 Servings

You might also like...