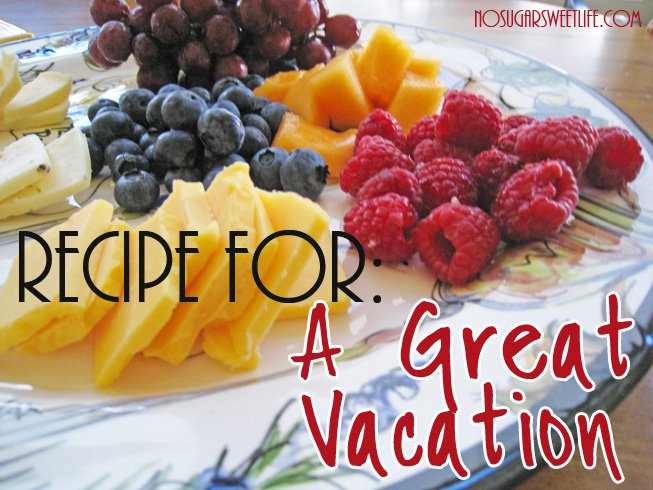 As you probably know realized with the plethora of guest posts, I was gone this week in Arizona visiting my grandmother (GiGi) and my parents.  It was NOT prime visiting time in Arizona (hello, 108 degrees...so not nice to meet you), but it was so wonderful to spend time together...even if mostly inside with the air conditioner on. We had a lovely visit, jam-packed with all the makings of a great vacation, including:
1. Good family / friends. I just love this photo of the four of us! L to R: Nonni, Kelly, Babycakes, & GiGi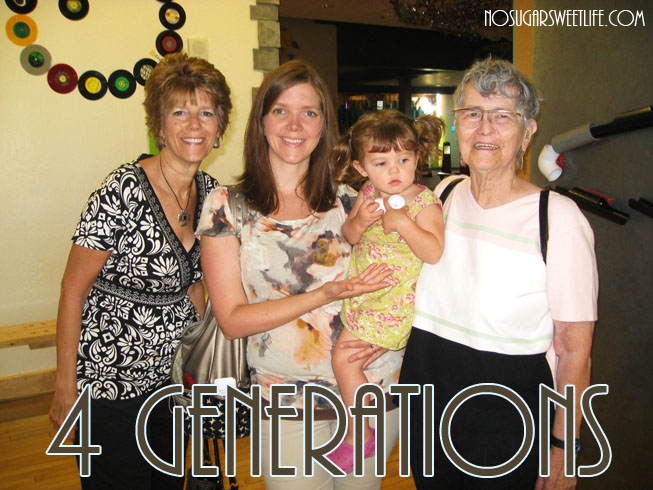 2. Good eats.  I'm not sure who was having more fun with the food, Poppi or Babycakes :) (shown here playing "airplane" with her lunch).  We ate so well on this trip: Egg strata, fresh fruits and cheeses, homemade fig & carmelized onion pizza, stuffed vegetarian peppers, my dad's famous 4-generation spaghetti & meatballs, salmon, and even french toast.  AND, you know what?  Even eating all of those things, I still LOST weight while on vacation!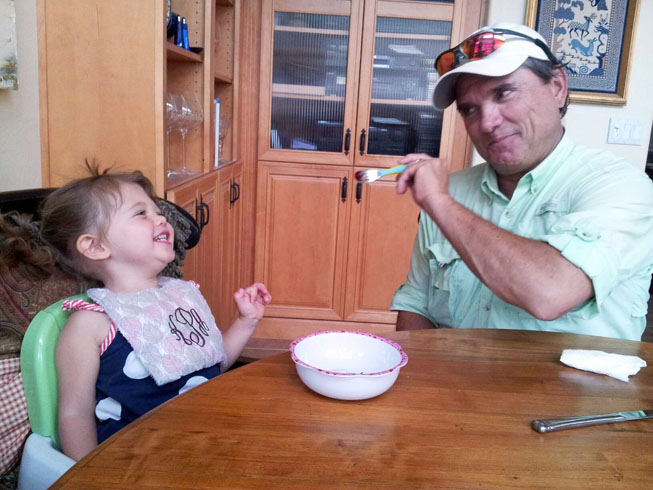 3. A little exploring. We went to a local farmer's market and found homemade relishes, organic popsicles, and every kind of hummus you'd ever want to taste! It was hot, but worth the adventure.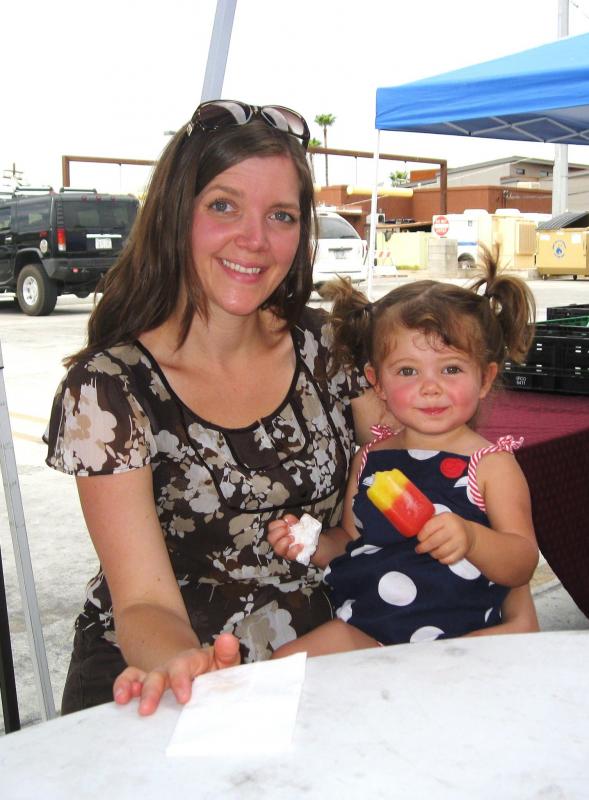 4. A little relaxation.  I made a fabulous blueberry & lemon cocktail, featured in yesterday's Healthy Living Thirsty Thursday.  It was a perfect cool drink on a hot afternoon!
5. A little splurging.  Oh.M.Geeeeee, this blueberry cheese was to die for!!  It was worth all the extra calories, I promise.  (PS. My dad found it at Costco!!) I may have eaten half the block myself over the 5 days of our visit.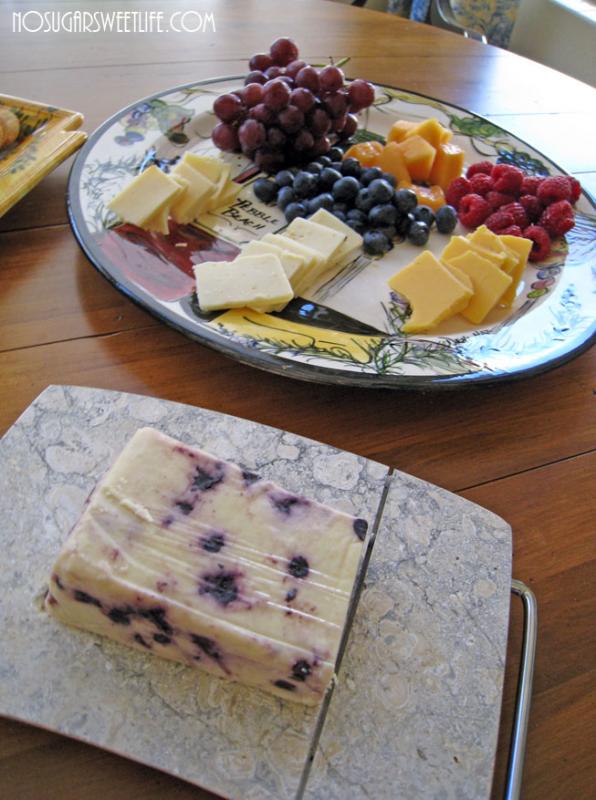 6. A little exercise. Babycakes woke up every morning before 4:30AM. Ouchie begouchie!  But I took advantage of it by going out to exercise before it got TOO hot (95 vs. 108!).  We were out walking by 5AM almost every morning. (Though someone still looks a little sleepy in this photo...ha!)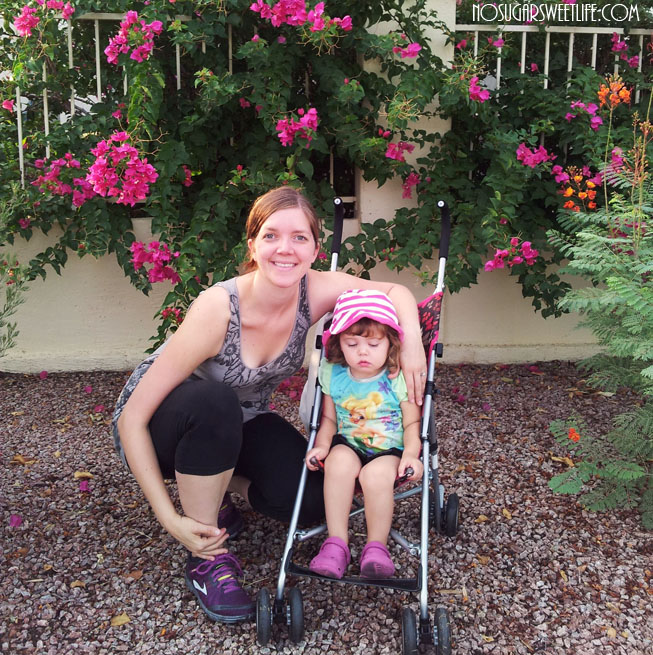 7. A pretty dress. I just love wearing a pretty red dress, especially on vacation!  And if you didn't think Babycakes was the cutest before, you will after you see this pic!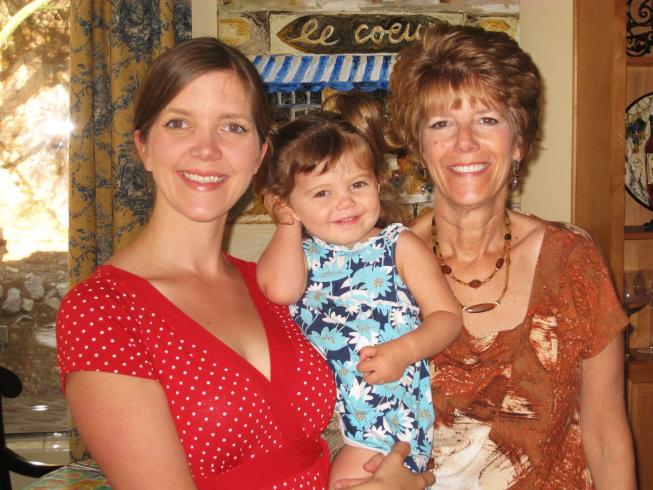 Question:
What are some of your most important ingredients for a great vacation?