Recent Press + {Vegan Apple Crisp} #nodairy #noeggs
Posted: September 27, 2013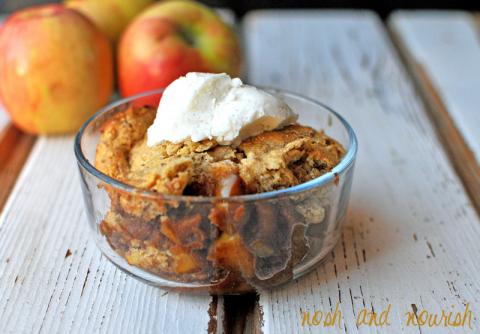 I still have on my to-do list, which seems to always be expanding, changing, and getting reprioritized on a daily basis, to create a true "Press" page for my blog. But for now, let me just share with you some of the exciting things going on for me:  1) I have joined the blogger team for the Huffington Post and am an official writer for their HuffPost Taste section. #squeel #pinchme  I have 2 published articles so far: a round-up of 10 Summer Recipes if you're not ready to embrace fall, and an intro to brown rice flour with my GF Spice Muffins. 2) I have been featured in the Fox News Magazine twice.  They did lovely write-ups of my Strawberry Pesto Pizza and just yesterday, my Single-Serve Double Chocolate Cake.
Introducing Vegan GF Apple Crisp
But enough about that. Now it's time for me to share an amazing new recipe with you!  Just like my recent Pumpkin Muffins, this apple crisp is also vegan and gluten-free. I am thoroughly enjoying this type of baking!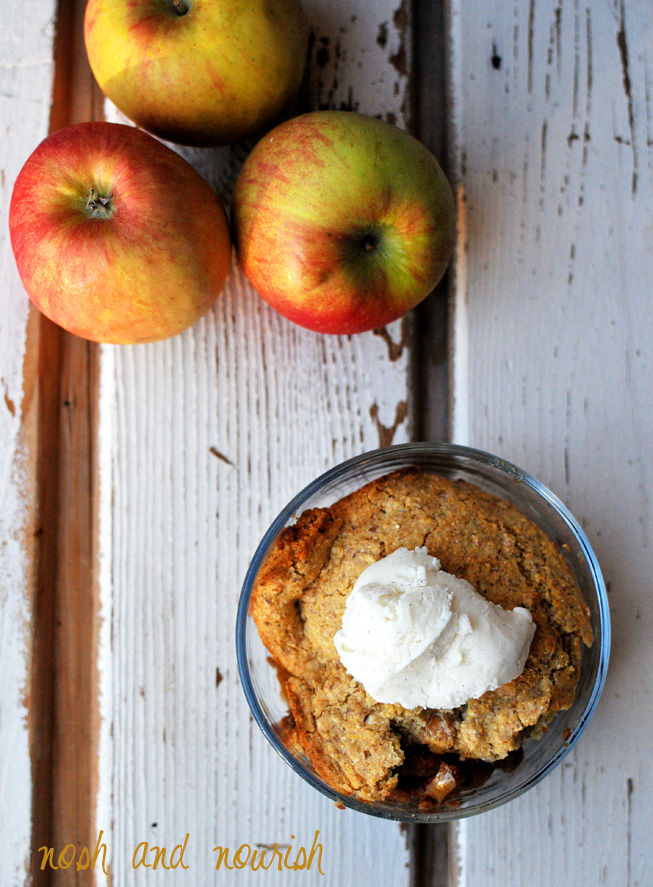 Lovely tastes of fall, like cinnamon and softened apples, are paired with a cake-like sweet topping that is lightly browned and crispy on the top.  I added chickpeas to the crisp, which gives it a hint of buttery flavor without actually using butter!  This dessert is really nourishing and good for you, but you'd never know it! #decadent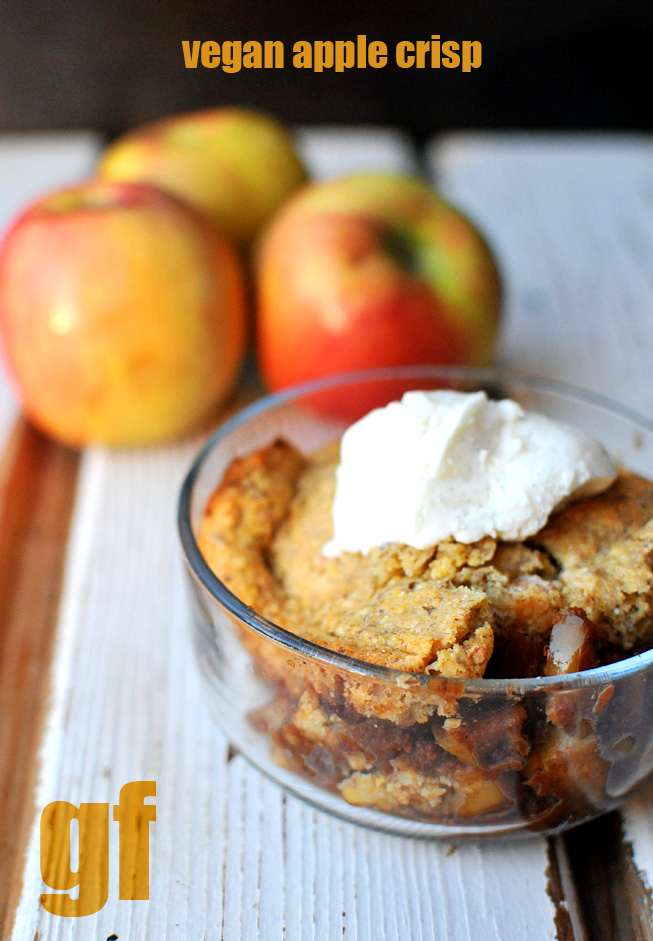 Top with a scoop of non-dairy ice cream, or pour almond milk over the top. Either way is delectable. #itriedboth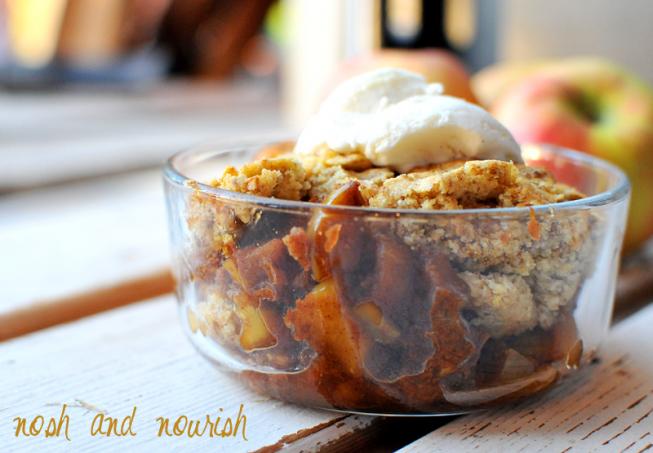 Vegan Apple Crisp
Ingredients
2
Apples (diced, I used Fuji apples)
1⁄2 cup
Carrot Pulp (optional, can leave out completely*)
3⁄4 cups
Bob's Redmill GF Cornbread Mix (can sub whole wheat pastry flour)
1⁄2 cup
Chickpeas (mashed)
2 tablespoons
Ground Flax
Notes
* I couldn't taste the carrot pulp AT ALL. But Dear Hubby who has an uber sensitive palate said that he could and that next time I should make his without it. #liveandlearn
**This recipe is easily doubled to feed more people :)
Instructions
Preheat the oven to 375.
Dice apples (I left the skin on, but you could peel if you so choose).
Put diced apples, water, coconut sugar, cinnamon, and carrot pulp (optional) into a medium sauce pan. Simmer on medium heat for 8 - 10 minutes, until apples are softened.  Stir frequently.
In a medium mixing bowl, combine the remaining ingredients: cornbread mix, mashed chickpeas, additional coconut sugar, almond milk, flax, and vanilla.
Pour the softened apple mixture into a small loaf pan (or 9 x 9 pan if you double the recipe).
Pour the cornbread batter over the warm apples.
Bake for 35 - 40 minutes, until the top is crisp and lightly browned.
Serve with a scoop of ice cream (vegan, if you want to keep it totally vegan). OR pour a bit of almond milk over the top! Both are delicious.
Yields 4 Servings

You might also like...