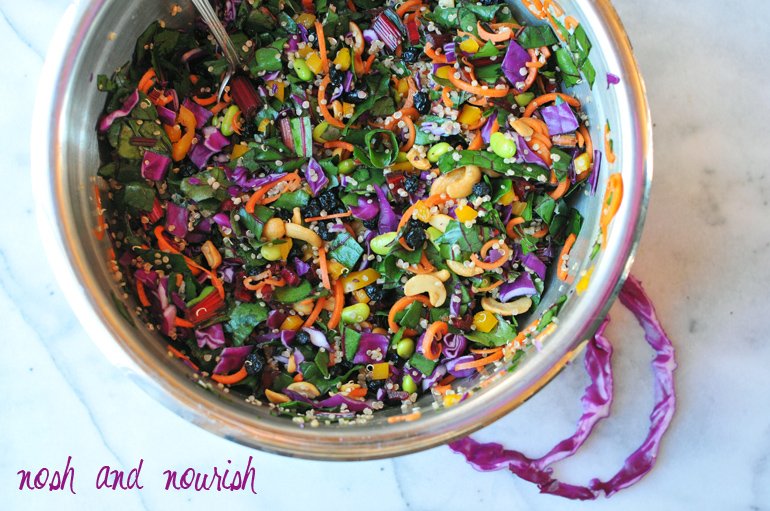 How are you?! Have you entered to win the super cute kitchen supplies from MightyNest I posted earlier this week?  Have you been eating these winter superfoods and feeling your best? I hope so! Can we just take a moment to talk about how absolutely gorgeous this salad is? It's like a party in a bowl. And it beats the heck out of a boring sandwich or canned soup for lunch, am I right?!?
Introducing Rainbow Chopped Cashew Salad:
It's seriously soooooooo good, so healthy, and so colorful (ie. packed with a bajillion nutrients!)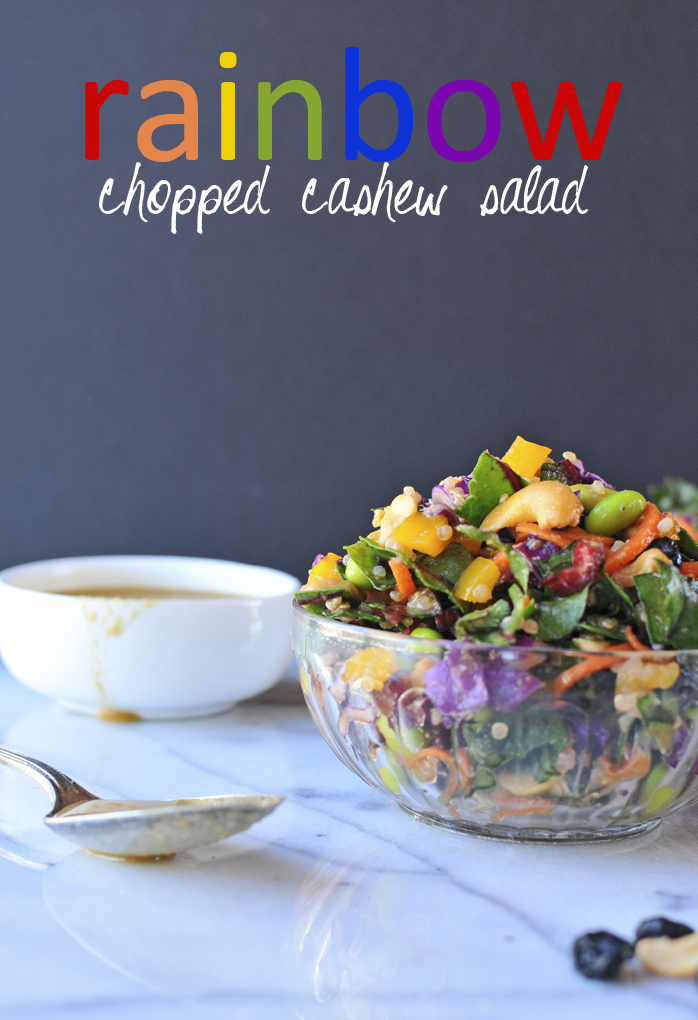 Not only are real non-processed foods good for our bodies, they're gorgeous!  Don't you just love these deep vibrant colors from the cabbage and rainbow chard stems?!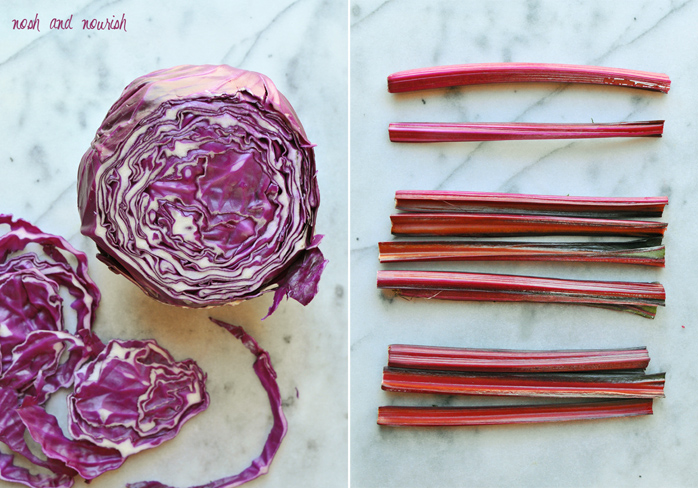 So what's in this rainbow salad?
Red: rainbow chard stems
Orange: spiralized carrots
Yellow: yellow bell pepper and quinoa
Green: rainbow chard. shelled edamame, and lime juice
Blue: dried blueberries
Purple: red cabbage
Tan: cashew vinaigrette and cashew pieces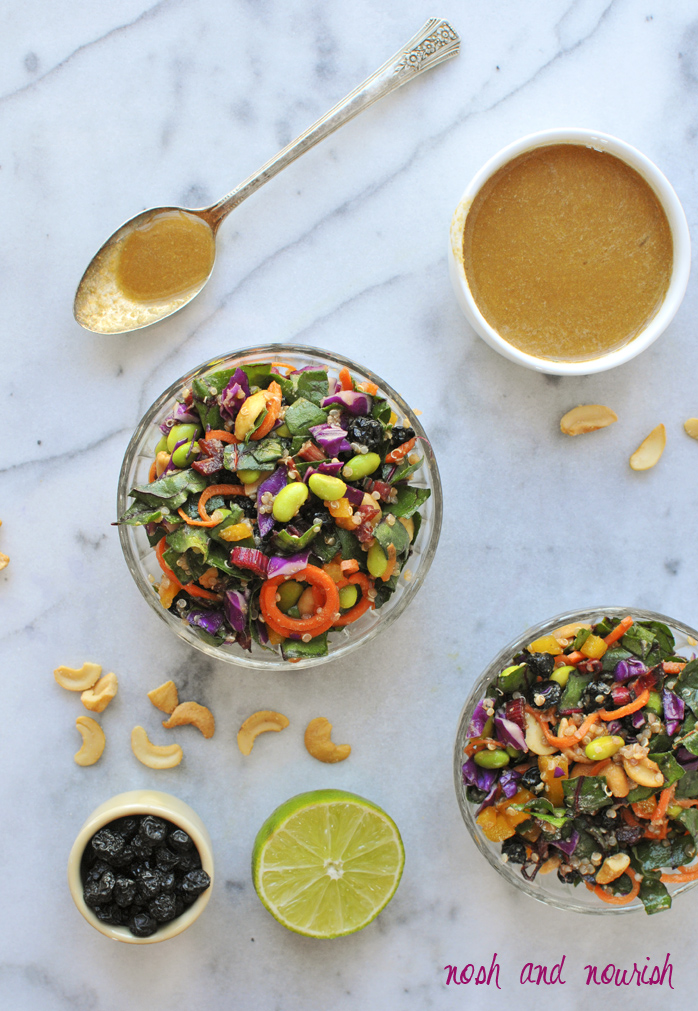 Unsweetened Cashewmilk:
The cashew vinaigrette in this rainbow salad features Silk's new Unsweetened Cashewmilk. I was so excited to try it, and let me just tell you: it is AWESOME! It is the perfect match between creamy and low calorie/low sugar. Not only do I love cooking and baking with it, I have converted to using it exclusively in my morning coffee... so I quite literally use it every.single.day.
My coffee journey went as follows:
I started as a die-hard Coffeemate super sweet creamer addict
Then I gave that up and went with plain milk and sugar
Then I discovered cow milk and I didn't play well together, so I switched to almondmilk and sugar
Then I tried drinking it black with cinnamon for a few weeks (this was more like torture!)
Then I went to Chocolate Almondmilk that already has sugar in it (16g). This was yummy and mocha-like but still had more sugar than I wanted every morning.
So now I'm happy to say that I use the Unsweetened Cashewmilk only -- Even with 0g of sugar, my coffee is delish!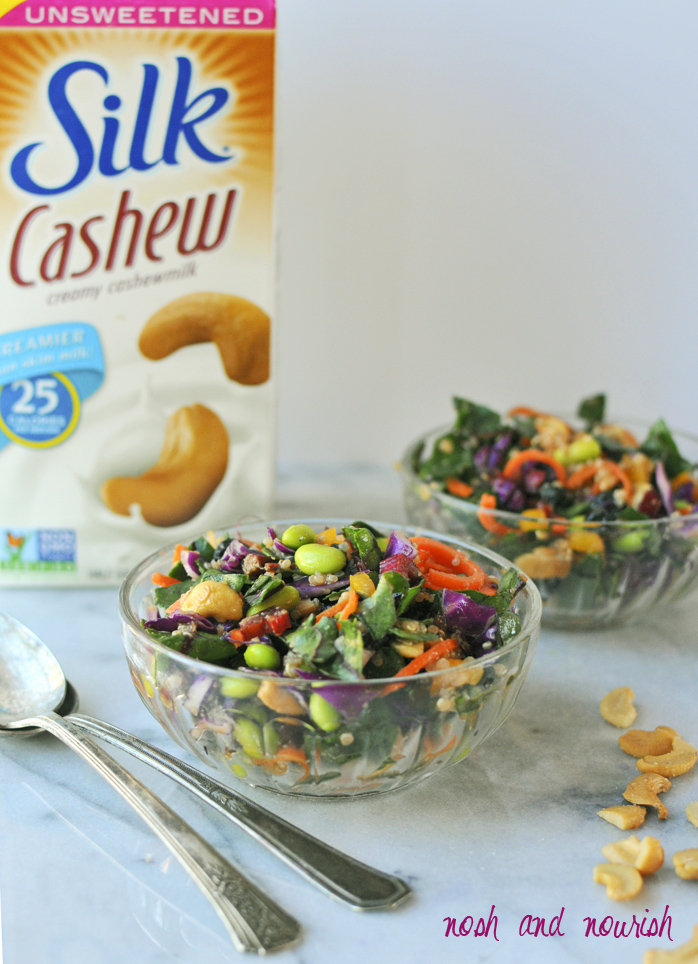 That might have been more than you wanted to know about my coffee habits, lol. Sooooooo, back to this salad. It's super hearty and satisfying because of the plant-based protein in the quinoa, cashews, and edamame! The dried blueberries add a bit of sweetness while the carrots and cashews give it a nice crunch. You will LOVE it!!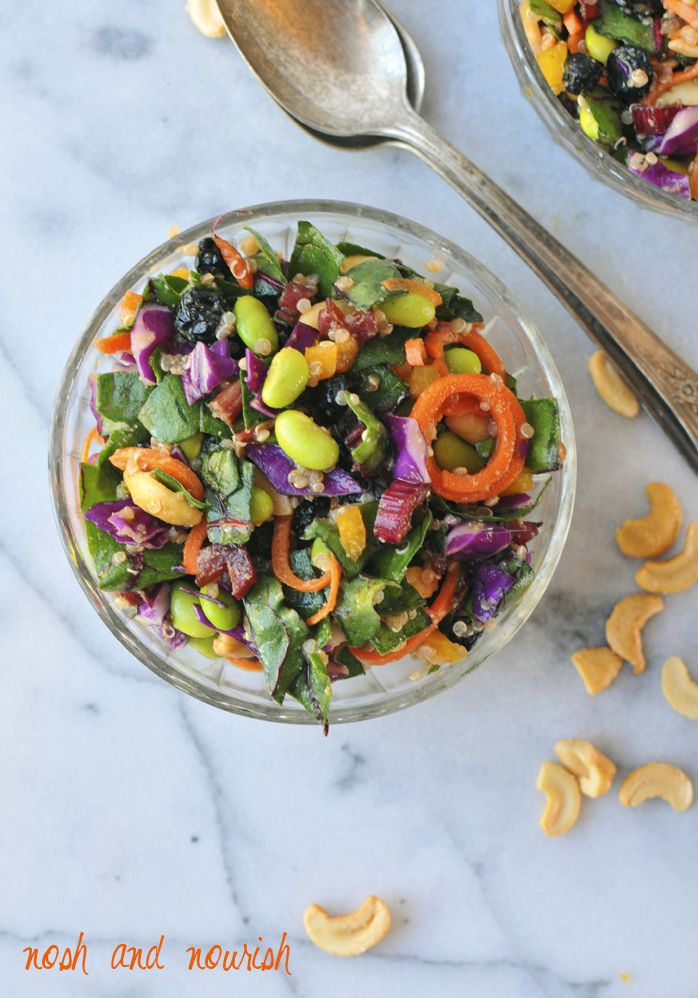 Next Steps:
Sign up for Silk's newsletter for coupons and more great ways to use their new cashewmilk!
Make this salad!
Enter to win lots of cute kitchen stuff.
This conversation is sponsored by Silk. The opinions, recipe, beautiful food photgraphy, and text are all mine.
Rainbow Chopped Cashew Salad
Description
Rainbow Chopped Cashew Salad // via Nosh and Nourish
Ingredients
10
stalks of organic rainbow chard (or sub your favorite greens)
1
yellow bell pepper (seeds and stem removed, then diced)
1
large carrot (spiralized or julienned)
2 cups
Red Cabbage (shredded/diced)
3⁄4 cups
dried blueberries
1⁄2 cup
Silk's Unsweetened Cashewmilk (for the dressing)
1 cup
Chickpeas (rinsed and drained, for the dressing)
2 tablespoons
Soy Sauce (for the dressing)
2 tablespoons
Dark Amber Maple Syrup (for the dressing)
2 tablespoons
Sesame Oil (for the dressing)
1 tablespoon
Apple Cider Vinegar (for the dressing)
juice from 1/2 a lime (for the dressing)
Instructions
Combine all of the salad ingredients in a large mixing bowl: chard through cashew pieces.
In a large measuring cup, combine the dressing ingredients: cashewmilk, chickpeas, soy sauce, syrup, vinegar, and lime juice. Use an immersion stick blender (or a large blender will work) to puree everything until smooth. 
Pour the dressing over the salad and stir thoroughly. 
Enjoy!
Yields 4 Servings