A Perfect Use for Excess Tomatoes: {Quinoa Bruschetta}
Posted: September 11, 2013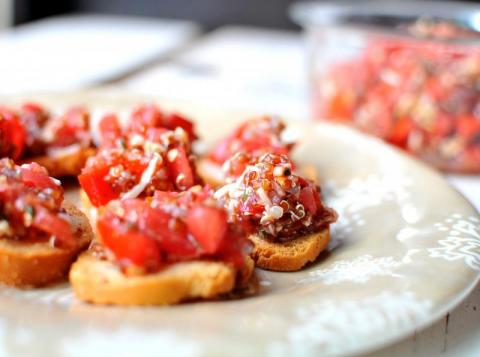 I don't know about you, but this time of year our garden is overflowing with tomatoes. We can't eat them fast enough!  Add on neighbors and coworkers and family members who are also trying to offload their excess tomatoes...and it's easy to accumulate more than you know what to do with.  I say: make bruschetta! I already have a fabulous bruschetta recipe that is hard not to just eat by the spoonful; but this time I wanted to "up" the nutritients even more!!
So I created Quinoa Bruschetta:
I kept it entirely gluten-free by serving the quinoa bruschetta on Glutino gluten-free bagel chips. They were amazing!!
So when any neighbor or coworker or family member asks you if you want any of their excess tomatoes, smile and then say, "YES PLEASE."
Quinoa Bruschetta
Description
Quinoa Bruschetta // @noshandnourish
Ingredients
1 cup
Cooked Quinoa (I used red)
1⁄4 cup
Italian Cheese (finely shredded)
1 tablespoon
Tube Basil (found in the produce section)
2 teaspoons
Minced Garlic
2 teaspoons
WHITE Balsamic Vinegar
Instructions
Mix all ingredients together in a small mixing bowl.
Serve with gluten-free bagel chips, or sliced french bread.
Yields 12 Servings

You might also like...