Organic Egg Dye + {Organic Mountain Berry Muffins}
Posted: March 28, 2013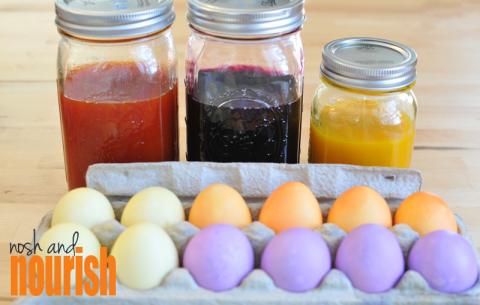 My friend Shannon has been with me on this journey towards the happy, healthy life since before Babycakes was born. She and I met at a prenatal pilates class.  Soon thereafter, we spent many hours swimming at the pool with big bulging bellies, talking about how motherhood would change us.  And as we've gone through each stage - birth, breastfeeding, sleep issues, walking, potty-training, etc. our friendship has only grown stronger.  I love her passion for good health, for organic food, for CSAs (community-supported-agriculture), for reducing her family's environmental impact, and for crafting.
Organic Egg Dyes:
Which is why I immediately said "yes" when she invited Babycakes and me over for a toddler-craft day -- dyeing Easter eggs with organic dyes.  So creative!! Here's Litte Miss Personality herself, trying to figure out how this white egg will suddenly turn her favorite color: purple.
Our overall impression of natural egg dyes is that they are very time consuming and expensive (especially the spice ones). When we do this again next year, we will make the dyes in smaller quantities: maybe only a cup or two of dye per color instead of giant jars. Shannon and I both really liked the feeling of making healthy dyes and not having to worry about how long the dye stayed on our toddlers' skin and if it got on the white of the egg because, hey, it's just paprika. For this craft, it boils down to how important keeping artificial colors away from your family is.  Even though it was a ton of trouble, we will most likely do it again next year, as it feels soooooo good doing things like this from scratch :)  --- and I'd love to use these dyes in a few other recipes!
Step by Step Instructions:
Step 1: Create your dyes. (Shannon followed the Better Homes & Gardens recipes found here). Our favorite colors were made with: Turmeric, Paprika, Purple Cabbage, and Blueberries.
Step 2: Boil your eggs.
Step 3: After the eggs have cooled, soak them briefly (~30 seconds each) in a white vinegar "bath"
Step 4: Put 3 eggs in each color.  Let them soak in the "dye" for 15 minutes.
Step 5: Remove the eggs with tongs from the dye, and allow them to dry in the egg carton.
And voila, beautifully dyed Easter eggs!
Shannon's son provided the musical entertainment while we dyed the eggs. #rockstar
And all that egg-dyeing made us hungry. So Shannon brought out a batch of these muffins -- a recipe she created herself!
Introducing Organic Mountain Berry Muffins:
Here's what Shannon had to say about them, "My picky little eater has downed three of these over the course of a day and I am having a hard time feeling guilty about it! These aren't the lowest in fat, but they have lots of extra nutritious goodies. My personal philosophy toward food is that if I make it myself, from organic and natural ingredients then it is going to be tons healthier for my family to start with and little splurges like these super healthy, super tasty muffins are worth it. These Mountain Berry muffins are the perfect texture even at 8300 feet."
And I'd like to add: on top of having the perfect consistency, the perfect texture, and the perfect sweetness, they are also mouth-wateringly gorgeous...as evidenced by this photo!
Organic Mountain Berry Muffins
Description
Organic Mountain Berry Muffins // @noshandnourish
Ingredients
1⁄2 cup
Organic No-Salt Butter (1 stick)
3⁄4 cups
Organic Agave or Honey
1 cup
Organic Unbleached Wheat Flour
3⁄4 cups
Organic Whole Wheat Flour
2 tablespoons
Organic Whole Wheat Flour ((soooo...3/4 cup PLUS 2 Tbsp))
1 1⁄2 teaspoon
Organic Baking Powder
2 tablespoons
Ground Organic Flax Seed
1 tablespoon
Organic Chia Seeds
1 cup
Frozen Berries - blackberries, raspberries, blueberries, cherries, (or fresh)
Instructions
1. Preheat oven to 400 degrees F.
2. In small bowl soak chia seeds in milk.
3. Cream softened butter and agave/honey, then mix in eggs, one at a time.
4. In another bowl blend flours, baking powder, salt, and flax.
5. Add milk and flour mixture to egg/agave/butter mixture, alternating between the two by about 1/3's. 
6. Fold in berries (if using frozen berries this chills the mixture a touch, I think this might actually be a good thing, might want to try chilling batter a bit if using fresh).
7. Add to muffin cups or greased tin (recipe will fill one standard size muffin tin).
8. Bake for 22 minutes, toothpick test for doneness.
9. Cool and enjoy!
Yields 12 Muffins

You might also like...