Motherhood + {Peanut Butter & Jelly Pancakes}
Posted: May 18, 2012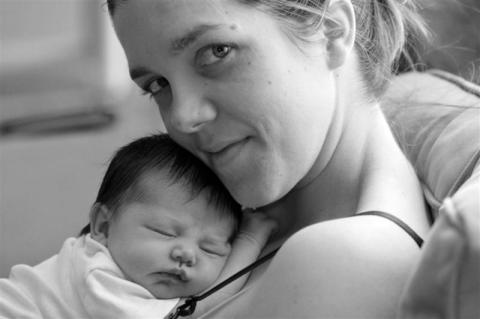 When I became a mother…to a daughter, that's when I decided I needed to live a healthier life.  I had "talked" about losing weight, for literally YEARS.  But I never did anything about it.   It obviously wasn't something that was really important to me then, or I would've made better choices and gotten my weight in check sooner.  But all of a sudden, I had this other person counting on me:  Counting on me to teach her how to live a healthy happy life.   I wasn't doing this myself, so how could I teach her? It was this realization that propelled me to action.  And her cute little face.  (I realize I might "overuse" this picture above - but I can't help it.  I just love it. Pure contentment for both of us).
So what did I do?
I realized that I was the sole person in charge of putting each bite of food into her little mouth.  I wanted to make the best choices and get her used to a variety of healthy foods at a very young age.   So as I carefully chose what she would eat, I did the same for myself.
We ate TONS of fruits and veggies.   We developed a love for hummus.  We enjoyed homemade veggies juices like "Mean Green" – full of kale, spinach, cucumber, parsley, apples, and lemon as an afternoon "pick-me-up."
I cut out added sugar from my own diet.  Why would I put that "poison" into ME if I wouldn't let it pass Babycakes' little lips?
We ate less meat; but when we did eat it we chose organic, hormone-free beef, chicken, and fish.
I was just more mindful of food's intended use: as fuel for our bodies – to grow, to be strong, and to accomplish things.
In doing so, I've lost over 50lbs and hopefully started Babycakes on a lifelong journey of good health and happiness.
Here's a couple more pics of Babycakes when she was a baby.  Her favorite place to sleep was in a Moby wrap while I walked around.  Seriously, as soon as I would sit down to rest (while wearing her in the wrap), she would start screaming!! (I've been meaning to share this pic for awhile, as I have quite a few "baby-wearer" mommas who are blog readers!)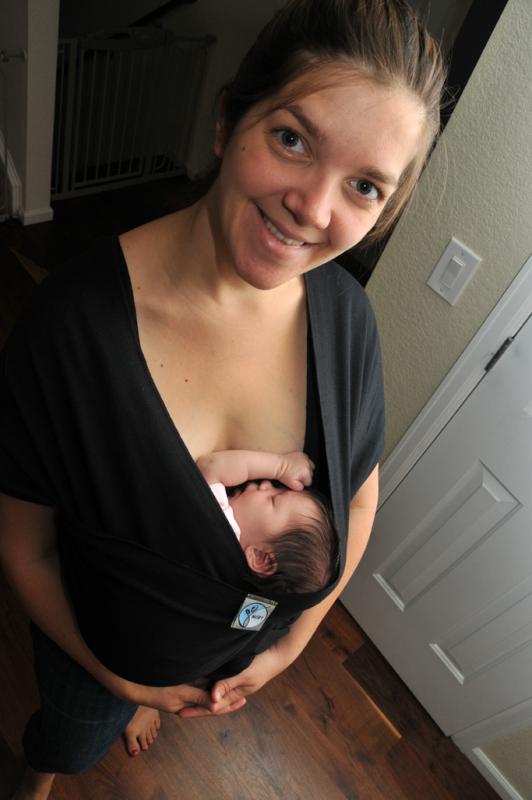 Here's another sleeping picture I love - so sweet, so peaceful: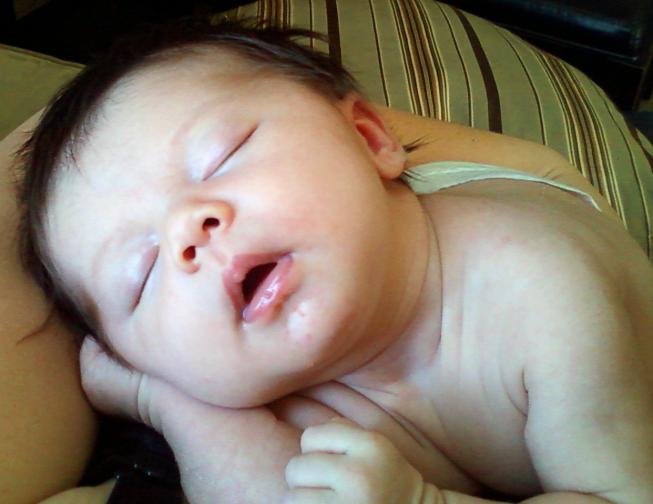 And then at about 6 months, she started eating actual food... peas were always a favorite :)
And as she continued to grow, we fell in love with organic baby food "pouches":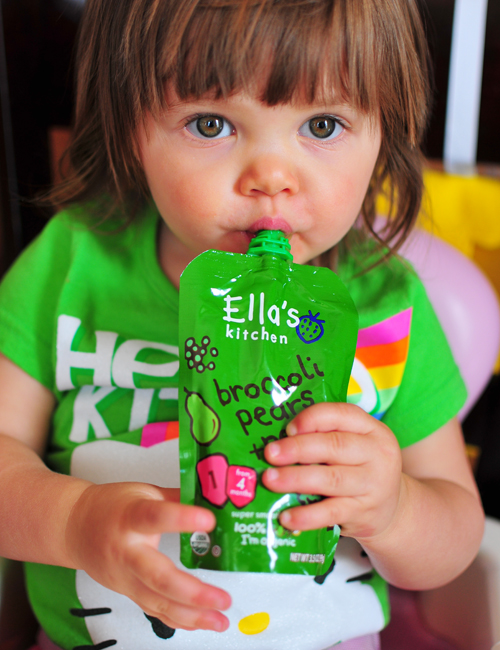 So now, without further ado, I'd love to share with you a new favorite recipe utilizing "baby food."
Introducing Peanut Butter & Jelly Pancakes:
I love these baby food pouches – completely organic, no added sweeteners, JUST VEGGIES and FRUIT.  They are super easy to take on the go in your purse and are a great "contained" healthy snack.  You don't need a fridge, or even a spoon.  Babycakes loves a variety of them, but her favorites are:  1) Ella's Kitchen "Broccoli, Peas, Pears" and 2) Happy Tots Plus "Strawberry, Kiwi, Beets, Pears."  I just recently discovered they're great in pancakes!
Ingredients:
2 cups Healthy Start Bisquick
3 Tbsp PB2
1 pouch of Happy Tot Plus: "Strawberry, Kiwi, Beet, & Pears"
1 cup milk  (I used whole, but you could use skim or almond)
Toppings: extra PB2 & sliced strawberries, or sliced ripe banana with drizzled honey, or whatever sounds yummy to you!
Directions:  Mix together in a medium bowl.  Cook over low – medium heat.  Serve & Enjoy
~ Makes 6 - 8 medium pancakes
Here is a close-up of the prepared batter:
A perfectly browned pancake:
Adorn with your favorite toppings – mine happened to be sliced ripe bananas, some extra PB2 made with water, and some drizzles of local honey.
Or to really keep in line with the theme, top with PB2 & fresh strawberries (this was breakfast a couple weekends' ago!)
Even if you don't have a baby… you don't have to be afraid of buying or cooking with baby food pouches!!  Just think of them as conveniently stored versatile fruits and veggies. :)
Motherhood changed me.  I still have about 30 pounds left to go, but I am well on my way towards living the happy healthy life… no sugar added.
Questions:
Have you ever cooked with baby food?
Would you be willing to try?


You might also like...