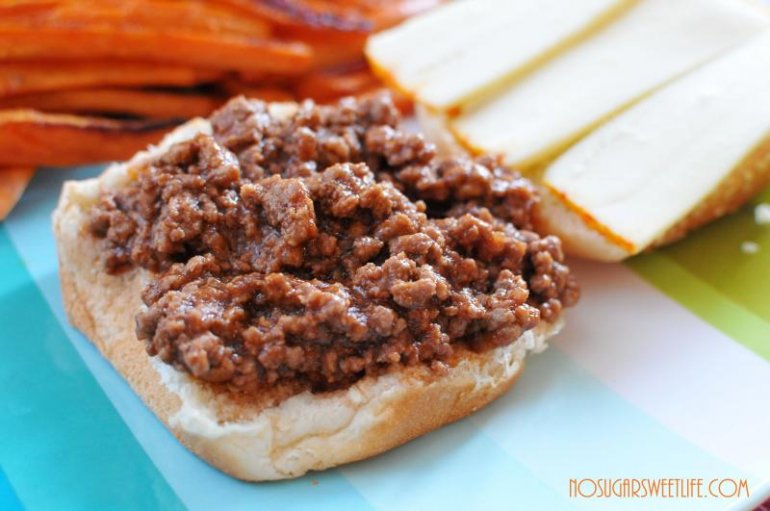 Whenever I think of sloppy joes, I think of Adam Sandler and start singing:  Sloppy Joes, sloppppppppppy, sloppy joe yeeeeeeah. Besides being a catchy tune, it's an American favorite made popular by Manwich.  Dear Hubby loves sloppy joes (though he doesn't love messes, so I make sure not to make his sandwich too overflowing/sloppy...ha!).  Well for too long I've actually bought those easy cans of Manwich sauce, but no more!  It's time I started listening to my own advice.  If you missed my 7 Tips for Lowering your Sugar Intake, be sure to go back and read them. 
Here's a look at Sloppy Joes from their perspective:
Read labels.  (And stop ignoring them!)  High Fructose Corn Syrup is the second ingredient, followed by MORE corn syrup as the 4th ingredient!
Find Lower Sugar versions.  Doesn't exist, as far as I can tell, so I created my own.
Substitute. Yes! I need to substitute something in for all that HFCS.
Here's the ingredients in a regular can of Manwich:
Tomato Puree (Water, Tomato Paste), High Fructose Corn Syrup, Distilled Vinegar, Corn Syrup, Less than 2% of: Salt, Sugar, Dehydrated Onions, Dehydrated Red and Green Bell Peppers, Chile Pepper, Tomato Fiber, Spices, Guar Gum, Xanthan Gum, Dehydrated Garlic, Carob Bean Gum, Natural Flavors.
Introducing No Sugar Sloppy Joes:
Do you ever add barbeque sauce to your sloppy joes?  We do.every.time.  So it's great that I just found a new lower sugar bbq sauce recently! It has less than half the sugar grams of most other brands/flavors...which makes me very happy :) Here's the 2 main players in today's recipe: Stubb's Hickory Bourbon BBQ + Muir Glen Organic Tomato Sauce.
With only 4 ingredients, this is almost as easy as opening that dreaded can of Manwich.
The extra 90 seconds are worth it!!  This recipe has approximately 50% less sugar content as the traditional manwich/bbq pairing (8g per serving, rather than 16g).
I served the sandwiches alongside my wonderful sweet potato fries, of course!
Questions:
Do you ever eat Sloppy Joes? If so, do you ever use Manwich?
Do you have any other go-to foods that you'd like to see "made over"?  If so, email me and I'll add it to my list!
No Sugar Sloppy Joes
Description
A homemade low-sugar version of the American favorite: Sloppy Joes.
Ingredients
7 ounces
Muir Glen Organic Tomato Sauce (1/2 the can)
1⁄2 cup
Stubb's Honey Bourbon BBQ Sauce
1⁄2 teaspoon
Local Wild Honey
Instructions
Saute the ground beef until cooked through, no pink
Mix together all sauce ingredients
Add sauce to cooked ground beef
Stir continually over medium heat for about 5 minutes, or until thickened.
Yields 5 Sandwiches