Homemade {Blueberry Balsamic Salad Dressing}
Posted: December 8, 2012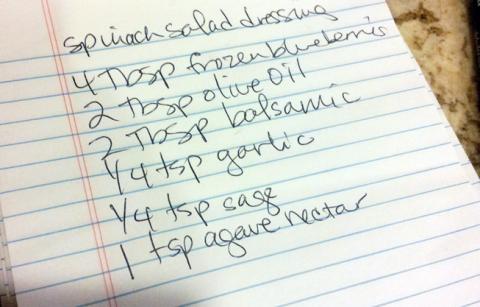 It's been another successful week in the #elf4health challenge.  I think the best thing for me is that it's made me be more aware of what I'm eating during this normally busy holiday season, challenging me to get out of my comfort zone...ie. creating a holiday Tabata workout, calculating my fiber intake, eating the rainbow in a day, and as I'll share today - make my first ever homemade salad dressing! I'm not sure why I've never done it before. I have been in a blueberry mood recently, not sure why...but I've had them by the bowlful, in oatmeal, in muffins, and now in my salad dressing.
Wonderfully nutritious
Ever since my father-in-law's recent heart attack, I've been focusing even MORE on preparing healthy meals for Dear Hubby...ones that I think he'll actually eat.  Though he won't eat blueberries by the bowlful (like Babycakes and I often do!), he will eat them IN things.  Soooooo, start with this: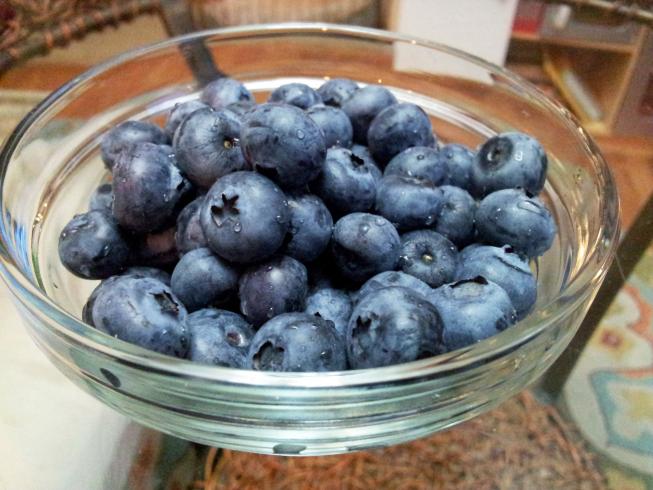 And turn it into this: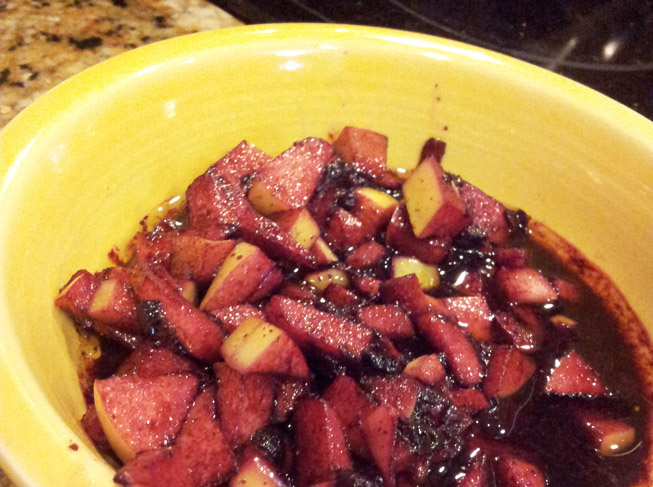 I used this dressing over a spinach salad, served with vegan FieldRoast apple/sage "sausages", almonds, and apples.  Feta would have been a good addition, but I didn't have any.  Here was the final result: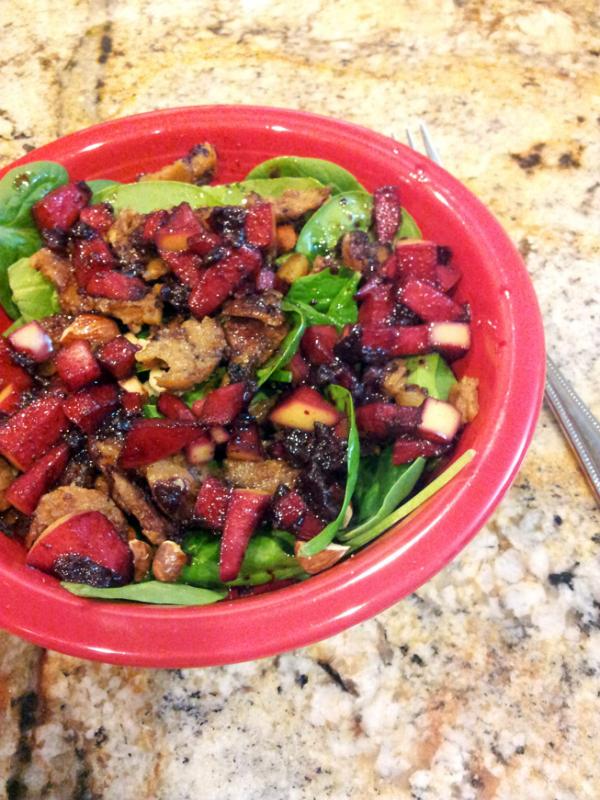 He ate the entire bowl.  And it was very hearty and filling!
Questions:
Do you make homemade salad dressings?
What's your favorite combo?
Blueberry Balsamic Dressing
Description
Blueberry Balsamic Dressing || No Sugar Sweet Life
Ingredients
4 tablespoons Blueberries (Frozen or Fresh)
2 tablespoons Olive Oil
2 tablespoons Balsamic Vinegar
1⁄4 teaspoon Minced Garlic
1⁄4 teaspoon Sage
1 teaspoon Agave Nectar or Honey
1 Apple (I used Pink Lady, diced)
Instructions
Mix all ingredients, except the apple in a small saucepan.
Cook over medium heat for approximately 6 minutes, stirring occasionally.
Mush the blueberries with a fork to make more of a thick sauce.
Stir in the diced apples for the last 2 minutes.
Set aside while you prepare your salad.
Serve cool or warm.
Yields 4 Servings

You might also like...