Highs/Lows + (Pomegranate Oat Chia Protein Balls}
Posted: April 11, 2012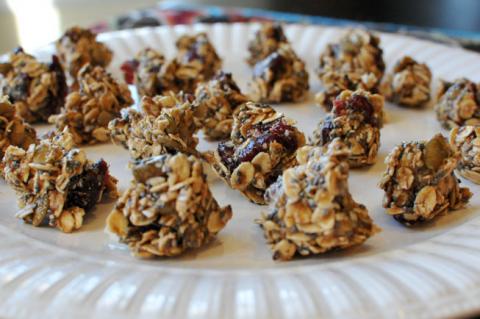 In response to yesterday's post about Rebooting tips, someone asked me why I'm doing a Reboot again.  She felt I already had a healthy diet and had achieved good balance in my life.   And she was right!  I am so thankful for where I am right now.  Yes I still have 30+ more pounds to lose, but I am eating a healthy variety of foods, taking in good fats and lean meats, and losing weight slowly week to week.  I don't feel like my body NEEDS another Reboot right now; this time I'm doing it for you.  I'm going through this again to document the process, to set up meal plans and grocery lists, to help you have better resources should you decide to kill the sugar craving in your own life.   The "process" of Rebooting is important to me because my initial Reboot back in August 2011 was the catalyst for me to lose the almost 50 pounds that I have.   It has helped me live the healthy happy life... no sugar added.
Highlights/Lowlights of my day:
Highlight:  It was super nice out.  Inspired by this weekend's Masters, Dear Hubby tried teaching Babycakes to swing a club... mind you, she's only 20 months old, but heck... she had a blast playing with daddy!
Lowlight: I had a dull to medium headache ALL day.  ARGH!  So while Babycakes & Dear Hubby played, I layed in the grass with my arm over my eyes.  I'm going to be honest people, today was not fun.  Reboot Days 2 & 3 are usually the worst.
Highlight:  I made it through Day 2 of my Reboot.  2 down, 13 to go :) And I got to enjoy one of my favorite dinners:  Spaghetti squash spaghetti (recipe in tomorrow's blogpost).
Lowlight: I couldn't eat any of the Pomegranate Oat Chia Protein Balls I made this weekend.  They were soooooooooooo delicious and I've been dreaming about them for 2 days. :)  BUT, just because I can't eat them doesn't mean YOU can't!
Introducing Pomegranate Oat Chia Protein Balls:
First, gather your ingredients:
Mix everything together:
Let your baby lick the extra peanut butter off the spoon (if applicable):
Then wet your hands (very important!!) and form into small quarter-sized balls.  Refrigerate 1 hour before devouring:
Haha!!  I almost closed the post without adding the recipe. Oops!
Ingredients:
1 cup Bob's Red Mill rolled oats
1/2 cup dried pomegranate and seeds (I used a mix from Walmart)
2 Tbsp Chocolate PB2
1 Tbsp Bob's Red Mill ground flaxseed
2 Tbsp Bob's Red Mill chia seeds
1 tsp vanilla
1/4 cup honey
1 Tbsp peanut butter
Directions:
Mix all dry ingredients throroughly
Fold in honey and peanut butter
Wet your hands and form into small quarter-sized balls, gently pressing together
Refrigerate 1 hour (or more)
Try not to eat them all in one sitting!!!!  
Mmmmmmmmmmmmmmm!!  OK, now I'm hungry again!  Dear Hubby, who has never heard of or eaten flax or chia seeds thought these were DELICIOUS!
Question:
What was a highlight / lowlight from your day?

You might also like...