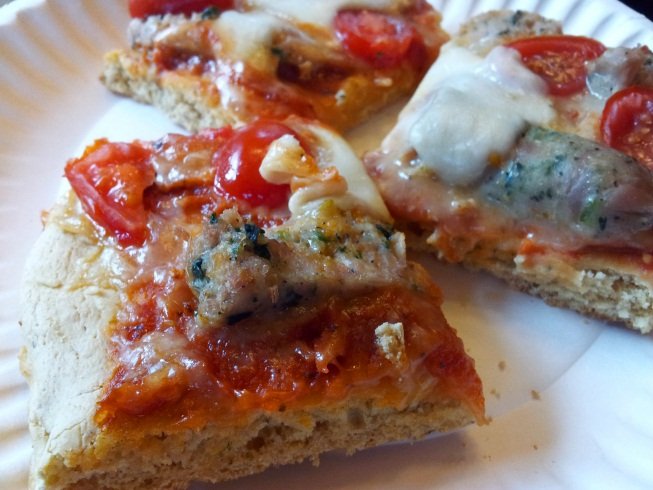 Pizza is my hubby's favorite food.  If there was only one food left in the world, he'd want it to be pizza.  He's not what I'd call an "emotional eater."  Most of the time, he'd probably be ok with just taking a "food pill" instead of eating, if it saved him time.  BUT, pizza literally makes him happy.  If he's had a hard week (which he often does lately) the stresses slowly melt away as he takes a few bites.  It's like a signal that he can start relaxing.  The weekend has arrived.  So what better way to embrace this desire (need) than to officially declare Friday nights as PIZZA NIGHT!!  But, if I was going to be eating pizza weekly, I really needed to find a way to make it a bit healthier, at least controlling the toppings, amount of oils, butter, etc...  Papa John's isn't exactly "diet" food!
Not only was the pizza night declaration inspired by my blogger friend Lauren, the original beer crust pizza idea was hers too.  Her hubby "might" even like pizza as much as mine... if that's possible!  What's better than beer and pizza?  BEER IN PIZZA!!! :)
Introducing Beer Crust Pizza:
We started the weekend with Pizza #1:
Ingredients:
But the crust was WAAAAAAAAAAY too thick, and overall it was a bit flavorless (with an overwhelming "wheat" taste from the "healthier" wheat flour I'd substituted).  So, overall we were disappointed with our first attempt at beer crust pizza.  But it had such potential!!  So we did it again on Saturday night :)  I had to have a perfect recipe before I shared it with you on the blog - so it only made sense to have pizza 2 nights in a row for this purpose!   First step - buy new flour, not "wheat" variety.  Here's Babycakes on the way in to the store:
I actually bought 2 kinds of flour because my mother-in-law is gluten-free.  So I bought a special bag of Bob's Red MIll Gluten Free Flour as well as the regular white flour.  Here's the 2 bowls of flour before I added the beer:
I mixed the ingredients and put them into the oven to "par-bake" -basically partially bake before adding sauce, cheese, & toppings.
While that baked, I gathered my toppings:
And it turned out so much better this second time around!!  Everyone loved it.  The secret ingredient: beer!!  We used Negra Modelo:
And here's a close-up of mine w/super yummy toppings: sliced grape tomatoes, spinach and garlic chicken sausage, basil, and fresh mozzarella chunks:
I will definitely be making this again!! And I just have to say, the pizza with the Bob's Red Mill Gluten-free flour was everyone's favorite! I honestly thought the opposite would be true.  Now I wonder what other wonderful Bob's Red Mill products are out there that I don't even know about!!!
Ingredients:
2 cups flour (don't use wheat!)
3/4 Tbsp baking powder
3/4 tsp salt
3/4 tsp Hidden Valley Ranch, dry ranch seasoning
3/4 tsp oregano
3/4 tsp basil
3/4ths of a bottle of beer (we used Negra Modelo)
Tomato Pizza Sauce (we used Classico - love the flavor!!)
Mozzarella cheese - shredded and/or chunks
Various toppings of choice  - we used pepperoni (on hubby's side) and on mine: spinach/garlic chicken sausage, grape tomatoes, & basil
Directions:
Heat oven to 375 degrees
Mix all dry ingredients together in a medium mixing bowl
Slowly add in the beer, stirring thoroughly as you add the liquid
Dough shouldn't be TOO "wet"... so if it seems less dough-like and more wet-mess-like, add back in more flour
Spray a pizza stone or a cookie sheet
Put some flour on your hands so they don't stick to the dough
Roll out dough, should be fairly thin (less than 1/2 an inch I'd say) - a rolling pin would seriously help but I DON'T HAVE ONE!!!!  So I just patted it flat(ish) with my hands.
"Par-bake" for 10 minutes
Gather your toppings while the crust is baking
After 10 minutes, take the crust out.  Add sauce. Add cheese. Add toppings.
Then bake for another 15 minutes at 375.
Then put the oven to broil for an additional 5 minutes for the cheese to crispify
Remove from oven. Cut with pizza cutter. Devour.
So yummy!!  If you try this, please let me know what you think. 
Questions:
What are your favorite pizza toppings?
How often do you allow yourself a "pizza splurge"?