Food Photography + {Buffalo Cranberry Grilled Cheese}
Posted: November 23, 2012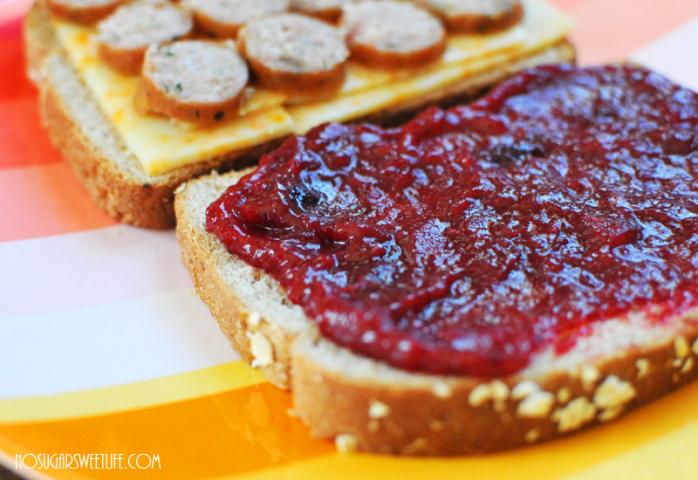 I hope you had a wonderful weekend!! We spent ours up in the mountains at my inlaws' cabin.  A good time was had by all.  It was beautiful, mostly relaxing (because a meal with a two-year-old can NEVER be described as fully relaxing!!), and fun.  The cranberry relish and pie bites were a hit!  My father-in-law mentioned at the table as we were finishing up the lavish meal, just how much love (and effort!) goes into preparing such a feast, and how quickly it is gobbled up and over.  So true! But the good news is, the leftovers last for a few more days :)
Happy Thanksgiving from my family to yours!
L to R: My brother-in-law, Dear Hubby, Babycakes, me, and my inlaws.
We took this exact same picture last year, which you can see here...I think I was about 20 pounds heavier then.
Now, back to leftovers...
If you made my cranberry pumpkin relish, or any other cranberry relish for that matter, you should definitely try this leftovers' grilled cheese.
The combination of flavors compliment each other exquisitely: the spice of the buffalo cheese with the sweet tang of the cranberry relish.  Perfect melty goodness.  And you could substitute the chicken sausages I used with extra leftover turkey if you wanted.
As you probably know, I thoroughly enjoy the photography aspect of blogging.  It is another creative outlet for me.  I love setting up the presentation, playing with the lighting, and ultimately showing off the food in a way that makes you want to cook and eat it RIGHT.THEN. 
Cameras matter!
Well, here is just a quick side by side that shows how important the actual camera is in food photography.  On the left is a picture of the grilled cheese taken with my camera phone, Samsung Galaxy X2. On the right is with my Nikon DSLR.  What a difference, eh?!?!
I have come a long way in 8 months...
Buffalo Cranberry Grilled Cheese

You might also like...