{CHOcolate Cherry Greek Frozen Yogurt}
Posted: June 4, 2012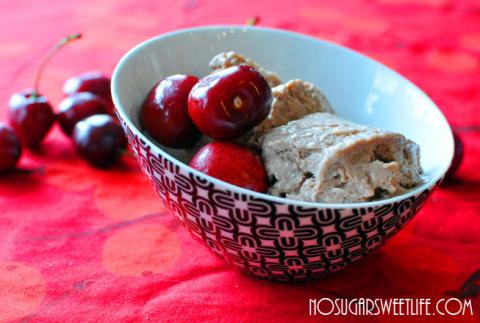 Growing up, I never liked cherries.  No actual cherries, no cherry pie, no cherry flavored drinks.  ICKOLA.  I think because it always seemed to remind me of nasty cough syrup that my parents made me down (in the most loving way of course).  But Dear Hubby loves them, so I've slowly but surely opened myself up to try them again.  It's that whole compromise thing.  I told you I was a PRO at marriage! Maybe the other reason I never bought cherries because they seemed soooooo dang expensive!  But this weekend they were on sale, so I bought my first bag of actual cherries at the grocery store.  It only took me 31 years to do it!  What better way to use them than to incorporate them into a Chobani recipe :)
Introducing CHOcolate Cherry Greek Frozen Yogurt:
I was inspired to make FroYo by this recipe posted on Chobani's Pinterest board (I love that place!).  I gathered my main ingredients: Vanilla Chobani, Organic Cherry Applesauce, & Chocolate Protein powder.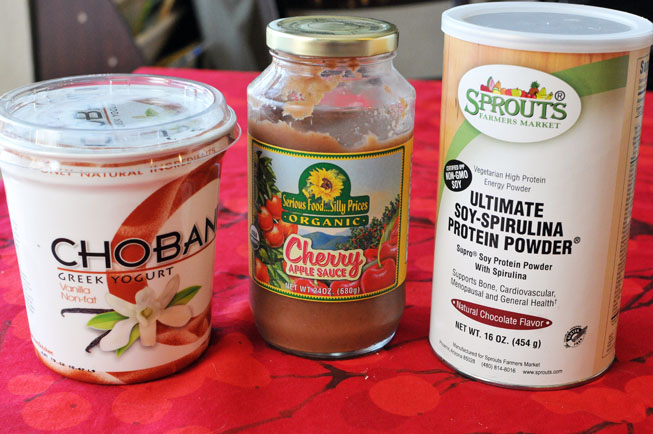 The only frozen "Greek" yogurt I've seen at the grocery store is made by Ben & Jerry's... and I don't know... I just don't trust it... that it's ACTUAL "Greek" yogurt.  It doesn't have enough protein!!  Maybe the Chobani peeps can email me their take on it (please Lindsay & Emily!)  So, I packed mine FULL of protein.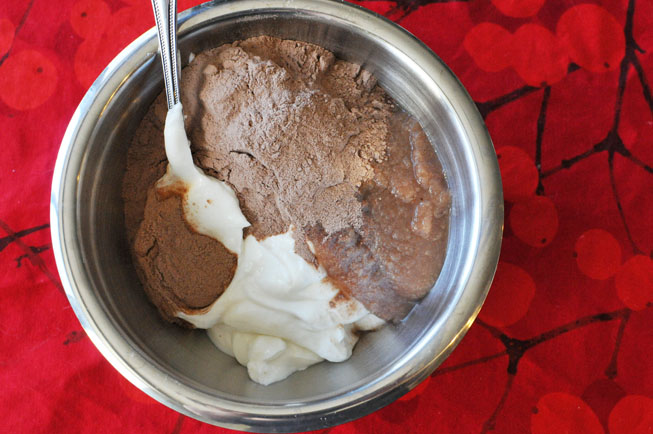 Stir until it's a creamy consistency. Then, freeze for 2 - 3 hours.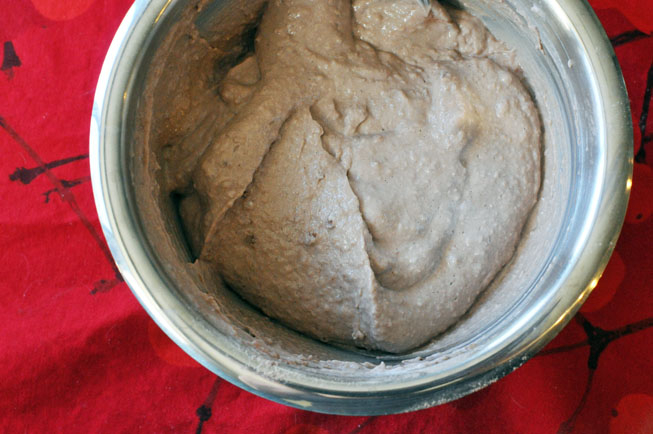 Mine came out a bit "too" frozen, so I let it thaw for about 10 minutes on the counter before I used a fork to break it up into little chunks.  Then I added 1/2 cup of milk (I only had whole in the house) and 1 Tbsp of Hershey's chocolate sauce. I used my good friend "Mr. Immersion Stick Blender" until creamy: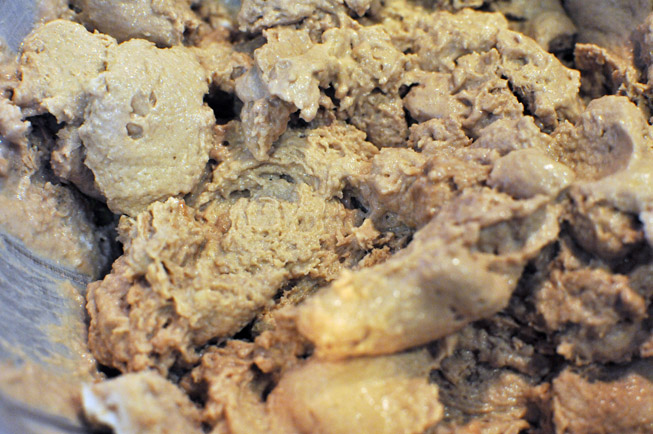 Scoop into your favorite pretty bowl and adorn with additional fresh cherries.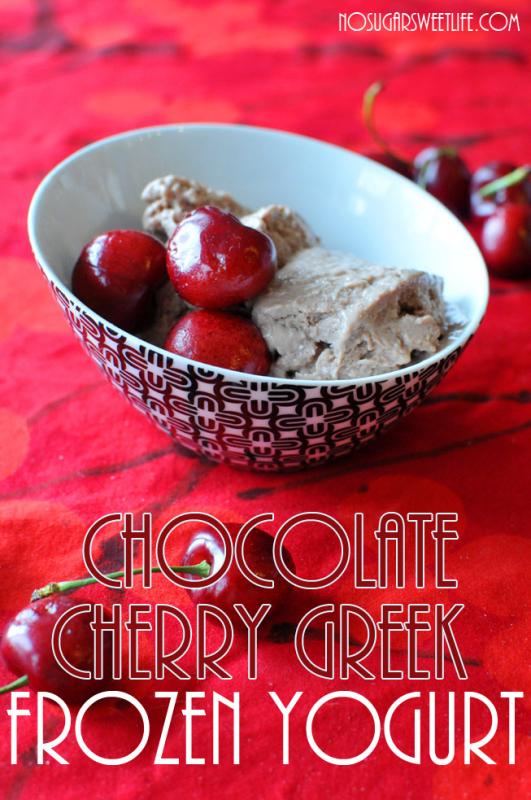 And enjoy before it melts :)  This has 155 calories and 17g of sugar per half cup serving, versus Ben & Jerry's 180 calories and 23g of sugar.  But it has more than DOUBLE the protein (!) 15g vs. Ben & Jerry's 6g!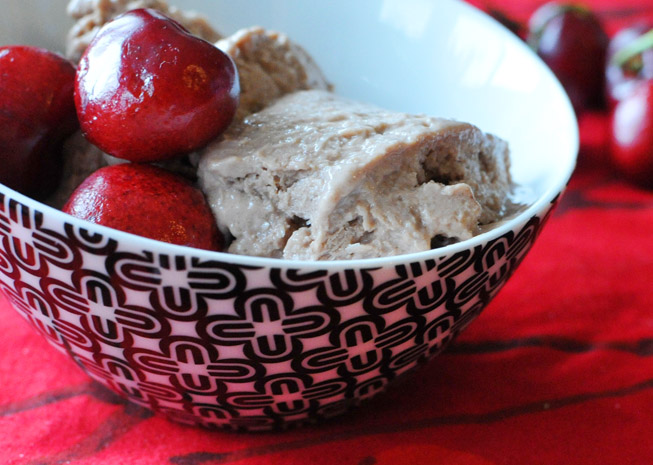 PS.  I suggest chopping the cherries up before putting them on top of the FroYo, I just kept them whole for the pictures :)
Ingredients:
2 cups Vanilla Greek Yogurt (I used Chobani of course!)
1/2 cup of organic Cherry Applesauce
2 scoops of Chocolate Protein Powder
1/2 cup of whole milk
1 Tbsp of Hershey's chocolate sauce
1 cup of fresh cherries
Directions:
Mix Greek Yogurt, applesauce, and protein powder in a metal mixing bowl until creamy.
Cover with foil and freeze for 2 hours.
Take out of freezer, and break it up into smaller chunks with a fork.
Add 1/2 cup of whole milk and 1 Tbsp of chocolate sauce
Blend with an immersion blender until creamy.
Top with additional diced cherries & enjoy!
*Note - I found this particular recipe didn't "refreeze" well, so I would make a half-batch if you don't think you and your guests would finish it in one sitting. 
Leftover Cherries:
I made Babycakes a creative breakfast this morning with the leftover cherries.  I used a cute heart-shaped Jello mold (that I bought at Ikea), filling each heart with a couple cherrios and a slice of cherry.  She thought it was the best thing ever!!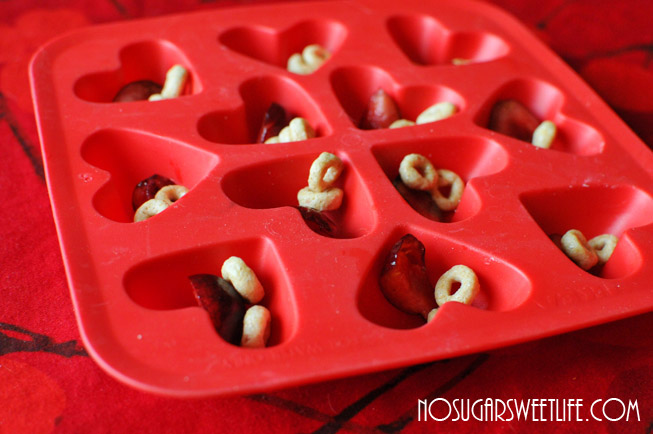 Though she normally might not have given cherries a chance, she couldn't pass them up with this cute presentation!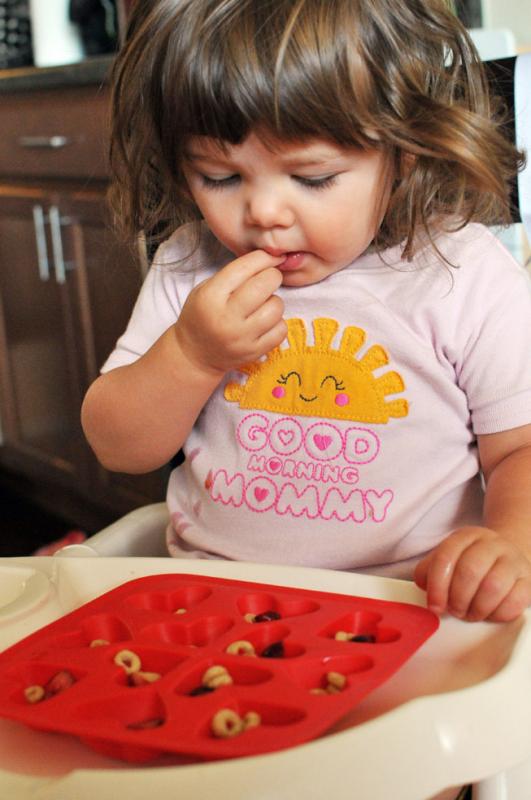 Questions:
Do you like cherries?  What's your favorite way to use them?
Do you ever present your child's food in a fun creative way?  I'd love to hear more ideas!
Be sure to enter the PRObar giveaway - so you have a chance to win a 6pk of Double Chocolate PRObars!!

You might also like...